---
VVV OSAKA DIRECT VVV December 29th, 2005
---
Greetings in the Name of Jesus!
It is our prayer that you have had a blessed Christmas and that you are ready for a wonderful New Year. The Lord continues to watch over us, and He is blessing both us and His ministry here in many ways. December was full of special events, and we are a little tired and way behind on many things (such as email and Christmas greetings!), but this week is calmer, so we are playing catch-up and even relaxing a little. This Osaka Direct is going to be long on pictures and short on text, since the best way to tell about the Christmas events and things is probably through photos anyway, and besides, my brain is too tired to write very much text (smile). We love you all, and we pray that the Lord will bless you more and more day by day and that He will minister wonderfully to a hurting world through you. We are blessed so that we can be a blessing to others. Please enjoy Osaka Direct. May the Lord Jesus be with you always and may you always be filled with His Holy Spirit!
---
News and Photos
Mel Lamar Outreach!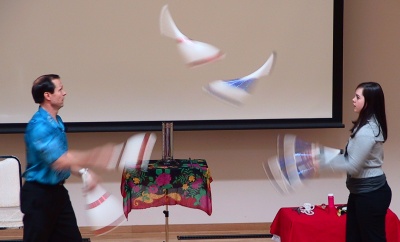 Mel Lamar and his daughter juggle the pins
On November 27th we had the pleasure of having Mel Lamar and his family at OIC. Mel is a children's evangelist from Greeley, Colorado, and we really appreciated his taking time out of his regular schedule to spend two weeks visiting churches and ministering in Japan. This was a great opportunity for church members to invite friends and family, and Mel's presentation was superb. Adults and children laughed and smiled as Mel shared not only a big bag of special tricks, but also many truths from the Bible. It was a wonderful and fruitful event and a perfect way to begin the Christmas outreach season. If you are looking for something fun and evangelistic for a special event at your church, consider inviting Mel; he is great!
Christmas Blessings and Fun!
Our Christmas season started with a special outreach and Christmas party at the cell church. This year our annual Covenant Players presentation lined up on the calendar just right for them to present a few plays at the Christmas party. It was a wonderful time and a blessing to all. After that came a series of Christmas parties at both the cell church and at the Osaka International Church (OIC) small group meetings. Finally, we had a special International Christmas Eve Candlelight Service and Family Christmas Service on the Christmas weekend. It was wonderful and we had many new visitors and chances to renew and deepen relationships with the church families.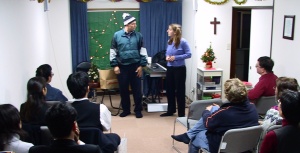 Covenant Players shares at Sekime Chapel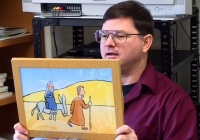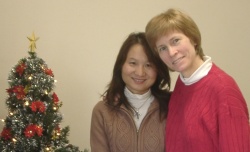 OIC Wednesday morning group: Dan uses Kamishibai to share
the Christmas story, and Karen visits with a friend from China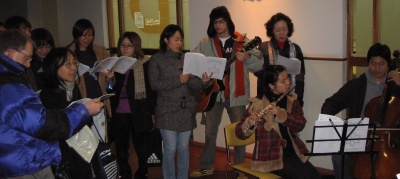 The OIC Friday night Small Group goes caroling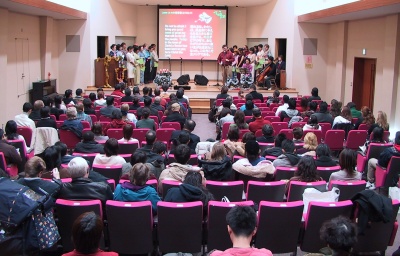 The special Christmas Eve program had a record turnout at OIC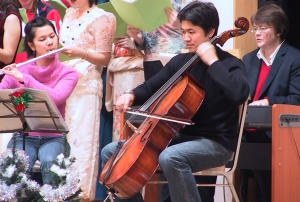 Sandy, Victor, and Bonnie bring the sound of flute, cello, and keyboard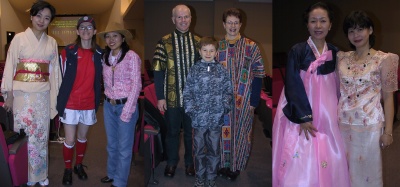 Eight people from Europe, Africa, Asia, and North America are
showing their countries through clothes. OIC has variety! Can
you guess their home countries? Answers are below.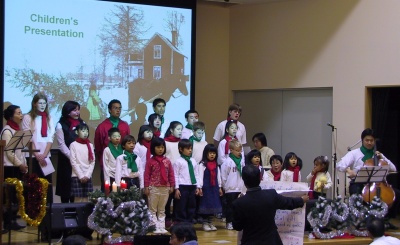 Our OIC Sunday morning Christmas worship featured the
Sunday School's presentation of Christmas in song and verse
Baptisms

Four young people - Victor (the cello man), Rhoderick, Iruma, and Isao -
confessing their faith before baptism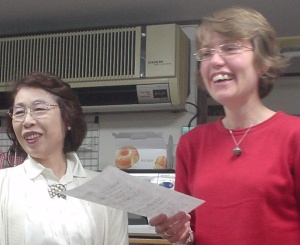 Aukje and Motoko have a laugh before the baptism
Praise the Lord! We are delighted to report that Motoko was baptized on November 11th. This is a milestone for the church plant since this is the very first baptism that is officially a Budou no Ki (Grapevine) Cell Church baptism. We are also delighted to report that later today Dan is baptizing Tomoko, a second cell church baptism! Good things are happening at the cell church plant!
Also, on November 6th, Dan baptized four young people from Japan, Korea, and the Philippines. This baptism service was held at the cell church location but is actually an OIC baptism. Each person getting baptized has a special story to tell of how they came to know Jesus and why they have decided to commit themselves to Him. It is not possible to tell their individual stories now, but in heaven there will be plenty of time to share the details! Jesus is alive and God is at work!
Weddings!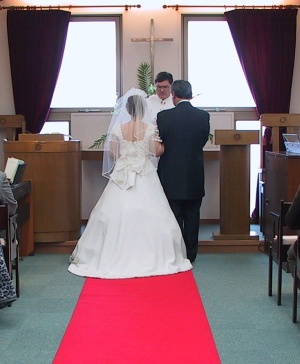 Congratulations to Kiyoshi and Nobue!
Dan had the joy of doing another wedding on December 18th. This was particularly special because the groom, Kiyoshi, was the first person Dan ever baptized (see the Feb. 2004 Osaka Direct). The Lord also used the wedding as an opportunity to show His divine sense of humor and to provide Dan with more faith training. On the morning of the wedding, the laser printer at church broke down and suddenly Dan was unable to print his notes for the wedding message. After a brief moment of "technology frustration anger", Dan repented and remembered Luke 12:11-12. Although the context of the verse is a little different, Dan resolved to trust the Holy Spirit to lead in what to say and relaxed and enjoyed the wedding service. Several people commented that the message was very good - perhaps better than it would have been with notes! So, trust in the Lord and not in your laser printer! God's ways are perfect! Still, after doing three weddings in Japanese, I am wondering whether the Lord will let me do a wedding in English someday?
New Year's in Japan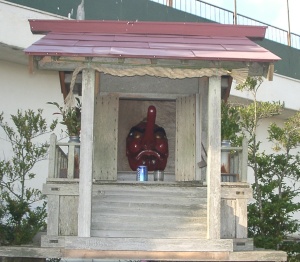 A "Tengu" Shrine with Drink Offerings
In November, we also attended the Church Planter's Institute (CPI) conference and had a fun time meeting with other missionaries and learning more about ministry in Japan from more experienced missionaries. The ten years that we have been here have been blessed and busy, but we still have lots to learn. When we get around some of the people who have been ministering here for forty and fifty years, we realize that we are still the "new guys" in many ways.
While at CPI, I took a walk and found that our hotel was surrounded by Shinto shrines on all sides. These are not historic shrines; they are places that the hotel owners and staff use daily to pray to the local "gods" for the success of the hotel. The Tengu shrine in the picture is a place to make offerings to appease the Tengu so that they will not curse the hotel or play bad tricks on the staff. This is a good reminder of the great need for the truth of the gospel to be shared in Japan.
During the New Year's holidays, over 90% of the Japanese people will visit Shinto shrines of various types to offer prayers to the local "gods" for good fortune and protection during the coming year. Many Japanese will also visit Buddhist temples in order to give offerings to appease their ancestors' spirits so that the ancestors will not be angry with them and harm them somehow. if you ask Japanese if they believe in these things, most of them will say "no". They will say that it is just a custom and that they do not really believe in it. But if you ask them, "What would happen if you didn't do it?" many Japanese will express fear and worry that "something bad might happen." This fear is a terrible bondage. Please pray that the eyes and hearts of the Japanese would be opened so that they can see the truth, so that they can see Jesus.
---
Praise & Prayer Requests
(1) Praise the Lord for His work here in Osaka. Praise Him especially for the baptisms and for new believers.
(2) Pray that the Lord would give us wisdom and strength for the ministry here. Even when we are blessed to see fruit from the ministry, it is easy to feel discouraged when tired.
(3) Pray for the financial condition of the churches and this ministry.
(4) Pray for those who have recently been baptized and for others who are considering making a commitment.
(5) Pray for our regular weekly meetings - may the Lord be glorified in every way, every day!
(6) Pray that the people of Osaka might come to know Jesus!
Thank you for taking the time to read our news and pray for us, God bless you always!
In Jesus' love,
Dan and Karen Ellrick
---
ANSWERS: Left to right, their home countries are: Japan, England, Canada, South Africa (family of three), Korea, Philippines.