---
VVV OSAKA DIRECT VVV February 2004
---
Dear Friends,
May the Lord bless you today and every day! Here in Osaka City the Lord is giving us much fruitful ministry to keep us busy, and we give thanks to Him for the opportunity to work for His glory in this place. Winter has brought some cold weather, but also many blessings to warm our hearts. Another baptism and a good start for the Alpha classes, as well as many other good things - praise His Holy Name! We do hope that you enjoy reading this edition of Osaka Direct, and that it will be an encouragement to you as well. May the Lord be with you always!
---
January News
Kiyoshi gets Baptized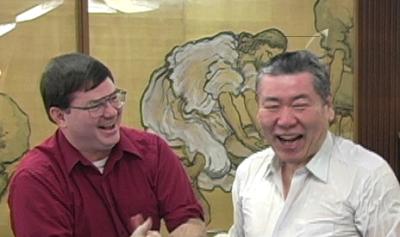 Kiyoshi and Dan with big smiles right after the baptism
January has brought many new members to the Osaka International Church (OIC) and we also had the joy of baptizing Kiyoshi, a middle-aged Japanese man who had been an occasional church attender for more than fifteen years. Kiyoshi had seemed a bit depressed when he first came to talk with Dan, but through one-to-one Bible study with Dan and increasingly regular church attendance, he has grown in the Lord a lot, and since being baptized, he has really been filled with the joy of the Lord. Now Kiyoshi is an enthusiastic member of the Alpha class and always has a smile for everyone.
It's the Kitchen; no, wait, it's the Video Studio!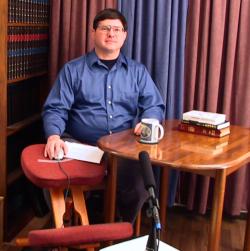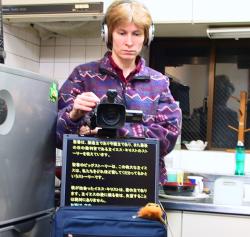 Dan at the kitchen table and Karen between the refrigerator and the sink
For some time Karen has been making bilingual DVDs of the regular OIC Sunday morning message and now we are finally getting rolling on making "studio-produced" Japanese language messages for use in the Grapevine Cell Church cell meetings. Dan has started an introductory teaching series about the "Big Story" of how the Creator God sent His Son, Jesus to die on the cross and pay for our sins. This series will serve not only for use in the cell groups, but also as an example to show Japanese Bible teachers when inviting them to join us in this project. Eventually we hope to produce a whole library of DVD teaching and evangelism resources that can be used in many different situations. Our "poor missionaries video studio" is really our kitchen, but it looks almost like a real studio on camera when zoomed in on Dan teaching. Of course, if you walk in and see Dan at the kitchen table using a mouse taped to a chair and wired to a notebook computer hanging out of a bag for a teleprompter, regular desk lamps arranged around the area for lights with aluminum foil for reflectors, and and Karen and her camera crowded between the refrigerator and the sink, you get a really non-professional impression! We are also trying to keep in mind the possibility of using some of the video materials we produce for internet video-streaming someday in the future.
Alpha Classes Finally Rolling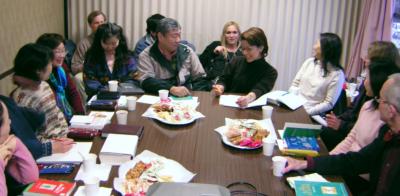 The OIC Alpha Class had to be moved to a larger room
After a couple of false starts last fall, we now have two well-attended Alpha classes running, one in English at OIC and one in Japanese at the Sekime location of the cell church. Between the two courses, a total of 29 people have come, with most of these being very dedicated to coming every week. Although Alpha is not perfect, it is a far better introductory Christian course than anything else that we have found, and it is available on video in both Japanese and English. We believe that the Lord can use Alpha in a mighty way here in Osaka as He has in many places. In fact, we feel very comfortable recommending Alpha to churches of all denominational and non-denominational backgrounds; if you perceive one or two weak areas in the course, just add a follow-up session or two after the Alpha course to address those areas.
---
Prayer and Praise Requests
(1) Thank you for your prayers for the Alpha courses, praise the Lord who answers prayer!
(2) Please pray for the Alpha Course students, most of the current students are already Christians, but a few are seekers and some of the Christians attending have never really been discipled and need basic teaching very much. Also, we are continuing to work toward starting a third Alpha course with the Osaka Christian College students, most of whom are pre-believers. Your prayers are needed as we have run into many obstacles in getting Alpha started with these students.
(3) Please pray for Aaron Deleon (sent out as a missionary from Calvary Chapel of Montebello) as he continues to work to start a Calvary Chapel here in Osaka.
(4) Pray for the Lord's will with regard to the possibility of Dan becoming the long-term pastor for the Osaka International Church (OIC).
(5) Pray that the Lord would bring short-term workers this year also according to His perfect plan and purpose.
(6) Please pray that the Lord would raise up additional financial partners for this ministry and that He would give us wisdom in prioritizing how best to use the ministry funds that are available.
If you have enjoyed this edition of Osaka Direct, then please forward it to a friend. If anyone wants to be added to (or removed from) the Osaka Direct mailing list, just let us know. God bless you!
In Jesus' love,
Dan and Karen Ellrick