---
VVV OSAKA DIRECT VVV December 25th, 2007
---
Greetings in the Name of Jesus!
Merry Christmas! May the Lord bless you wonderfully on this day as we celebrate the birth of the King of kings! Praise the Lord! We have been out of touch for way too long, but we are still here in Osaka working to share the Good News of Jesus. The days and weeks are very full and unfortunately we never catch up on personal correspondence or ministry. We are busy, and often tired, but we are also blessed with the wonderful privilege and joy of seeing people come to faith and grow in their walk with the Lord. It is truly miraculous to see lives changed as the Holy Spirit transforms those who trust in Jesus. Thank you for your prayers and support, and may the Lord bless you and watch over you always! Please enjoy this edition of Osaka Direct. And remember, trust in Jesus for all things!
Note: New Address and Phone Number
Daniel and Karen Ellrick
2-10-7-404 Higashi Obase
Higashinari-ku, Osaka 537-0024
Phone: 81-6-7503-5268
---
News and Photos
Osaka International Church (OIC)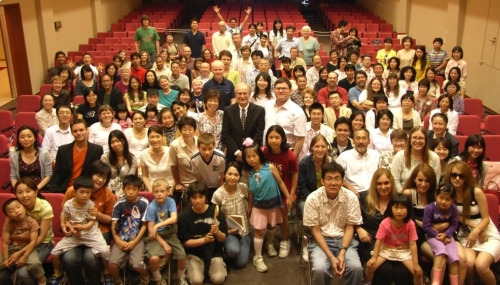 OIC continues to grow in numbers and in faith
It has been a blessed year at OIC. We have baptized five young Japanese and the Lord has added 30 new members to the congregation. Many people have also taken on the challenge and experienced the joy of serving the Lord in the various ministries of the church, and lives are being changed as people experience the joy of walking with Jesus. There are, of course, many challenges also. In a church of many cultures filled with people of widely varied church backgrounds and experiences, there are always differences of opinions. I am reminded of a moment last summer when a Korean brother was helping to clean up after communion and we learned that he had been taught in his former church that, "because communion is holy, no one can receive two servings, and therefore any leftovers must be carefully thrown away." This was a very interesting idea since I had learned earlier that many of our Filipino brothers and sisters have been taught that, "because communion is holy, leftovers cannot be thrown away and must be consumed by someone." Issues like this give us many opportunities to talk about the difference between reliable Scripture and fallible church tradition!
Family Outing at the National Bunraku Theater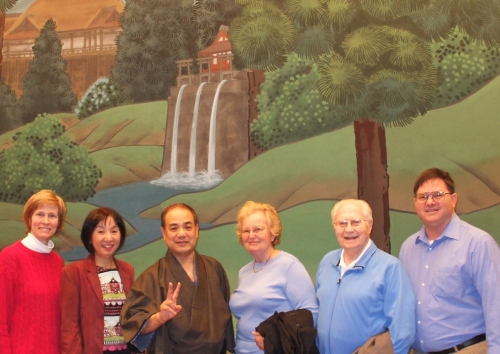 Karen, Mariko, Yuji, Mari, Karen's dad, and Dan on the stage at the Bunraku Theater
We had a wonderful visit with Karen's dad and his wife Mari when they came to Osaka in November. Karen played tour guide for most of the time, and they enjoyed sightseeing in Kyoto and a trip into the countryside to see the fall leaves. One highlight of the visit was seeing a performance at the National Bunraku Theater in Osaka. Bunraku is traditional Japanese puppet theater and has a tradition dating back for several hundred years. It is really quite amazing how quickly you forget that all of the actors and actresses in the play are elaborate puppets as you get absorbed in the suspenseful plot. Yuji and Mariko, a couple who are members of OIC, gave us the wonderful gift of tickets and a backstage tour of the theater. This was made possible because Yuji is one of the professional narrators at the theater. He literally makes a living by telling stories, and when you hear him you can understand why it takes a professional with years of training to narrate a Bunraku play. Yuji is also involved in producing Bible-themed Bunraku presentations in order to share the Good News of Jesus through this traditional Japanese art form. The whole family is very arts-oriented - Mariko led the OIC Christmas choir this year, and their son, Yusuke is the drummer on our worship team! We give thanks to the Lord for Japanese Christian families who minister together.
OIC Filipino and Friends Party at our Home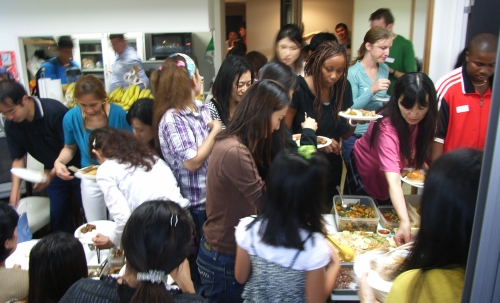 A total of 61 people joined the Filipino and Friends Party at our home
Earlier this year we bought a condominium with help from Karen's dad, who decided to get funds released from Karen's mother's trust account for the purpose. So we now literally own a piece of Osaka and are really settling into life here. The place we bought is about twice the size of our former rental place, and so now we have over 800 square feet of living space. After 11 years of living in places half this size, it seems huge! So we announced a party and invited the Filipinos from OIC and their friends to come and eat with us on a Sunday afternoon. 61 people showed up, and we were elbow to elbow from the entryway to the balcony and had a great time. The larger place is opening up many new ministry opportunities (as if we weren't busy enough?), and it has been a wonderful blessing to us. We are hoping to have an Africa theme party early next year, and we are thinking of continuing theme parties like this from time to time, since the Filipino party demonstrated that this is a great way to get to know pre-Christian friends and family of church members. We have also already done an Alpha Course and a number of other events in our new home. Many thanks to Karen's father, and praise the Lord!
Bilingual Gospel of Luke Book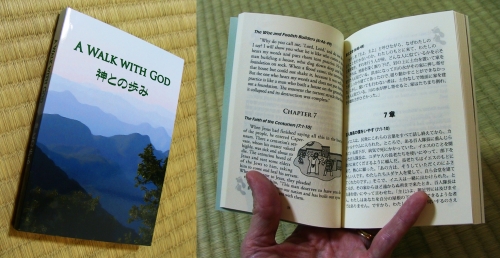 A Walk with God - our first book design project
This Christmas we published our first book! A Walk with God is a book that we designed together with a special project committee at OIC. The concept was to produce an easy to read bilingual gospel of Luke with some additional Scripture references and photos of Israel. Readability was a top priority, and a second goal was to make the book as attractive as possible without making it expensive. Our order of five thousand copies arrived on Saturday the 22nd, just in time to be used as a Christmas gift at OIC the following day. The book has turned out very well, and we are praying that it will touch many people's hearts. Since coming to Japan, literature distribution has always been part of our outreach efforts. For example, this past summer over 10,000 copies of the Japanese Power for Living book were passed out as part of the cell church outreach. Designing our own books is a significant next step in developing this part of the ministry.
Sunday Afternoon Small Group Gospel Hula Dance



Gospel Hula at Christmas; two of the dancers learned in Hawaii
The OIC small group ministry continues to grow, and some of the groups are developing their own special talents. One group that meets on Sunday afternoons is even doing Gospel Hula Dance! At our special Christmas service, they performed a beautiful dance for us as they gave praise to God through this art form.
Austrian Ballet Performs "Joseph and Mary"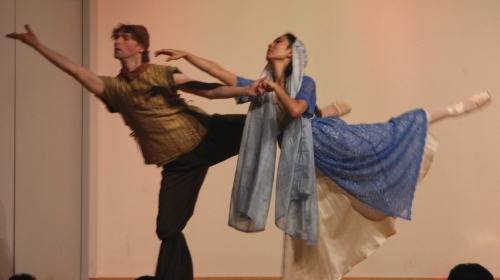 Chris and Rio play Joseph and Mary in this ballet presentation of the Christmas story
This has really been a year of outreach through the arts at OIC as we also hosted a ballet performance of "Joseph and Mary" in early December. The Austrian Ballet Company is actually based in Tokyo, but it is led by Chris and Rio, an Austrian and his Japanese wife who actually grew up in Salzburg, Austria. They operate a ballet school and are enthusiastic to use this art form to share the Good News of Jesus, so they produce Bible-themed performance as well as traditional ballets.
One Happy Sunday at the Cell Church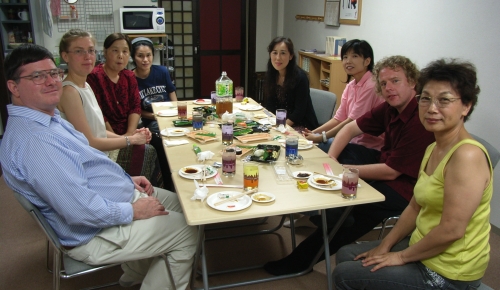 Coffee and fellowship after a meeting at Sekime Chapel
We are continuing to work on the Grapevine Cell Church plant also, and we have several cell church meetings every week as well as special outreach projects. We give thanks that we have seen some fruit from this ministry, but we would like to see much more than we have seen so far. One of the realities is that it is very hard to attract and keep people when there is no strong core of Japanese believers for newcomers to fellowship with. Often people come to the cell church for a while and then leave for a more established church. We give thanks for the opportunity to ministry to these people, some of whom have never been in a church before they come to us, but we also need stable and committed people. We continue to seek the Lord's wisdom for the cell church and for all things.
OIC Christmas Choir



Mariko leads the Christmas Choir at the OIC Christmas Eve Service
We had a wonderful International Christmas Eve Celebration at OIC with many first-time visitors. In addition to Scripture readings in about a dozen different languages from many different countries, we also had special solo music, the Gospel Hula Dance team, and a wonderful set of Christmas Carols presented by the OIC Choir. We pray that you also are having a wonderful Christmas and we wish you a Happy New Year also; may the Lord bless you wonderfully today and every day!
---
Praise & Prayer Requests
(1) Pray that the new book, A Walk With God, will touch many hearts for Jesus!
(2) Pray for the Cell Church Leadership Retreat December 26th-28th.
(3) Pray for wisdom for possible changes in the OIC organizational structure. As the church grows, some changes are clearly needed, but it is not so clear what steps should be taken or when.
(4) Pray for our regular weekly meetings - may the Lord be glorified in every way, every day!
(5) Pray that the people of Osaka might come to know Jesus. May the New Year be filled with many opportunities to share the Good News!
Thank you for taking the time to read our news and pray for us. God bless you always!
In Jesus' love,
Dan and Karen Ellrick