---
VVV OSAKA DIRECT VVV December 5th, 2006
---
Greetings in the Name of Jesus!
Hello and God bless you! How are you today? We are doing fine here in Osaka, but as busy as ever, and once again I find that I need to apologize for being out of touch too long. Please forgive us, the days and weeks are full of activities and they seem to go by so quickly. This past August, Karen visited her father and friends in Southern California, while Dan stayed in Osaka, very busy with a special summer street outreach campaign. After that, a busy fall started with several new Alpha Courses, and a church retreat during which Dan presented several sessions on the history of Israel, and at which Bridges for Peace (BFP) gave a presentation on the situation in Israel today and on Bible prophecy relating to Israel. These and other special activities, along with our regular commitments at Osaka International Church (OIC) and at Grapevine Cell Church (GCC) have given us many chances to share the gospel and to see the Lord at work in people's lives. It is not always easy, but it is a privilege and a blessing to serve the Lord!
May the Lord bless you and watch over you always! Please enjoy this edition of Osaka Direct. Trust in Jesus for all things!
---
News and Photos
Paul Adams Summer Outreach on the Streets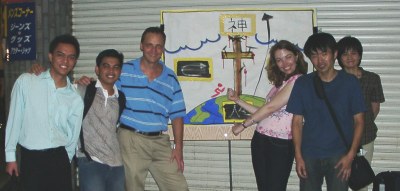 Art evangelist Paul Adams and an OIC street outreach team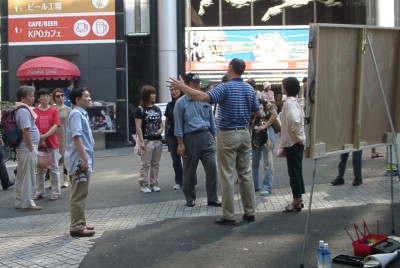 Paul preaching on the street using a sketch board
The days were hot, but the nights were cooler. Paul Adams, an "art evangelist" with Open Air Campaigners, visited us in Osaka, and together we spent a bit more than a week taking the gospel to the streets. The plan was simple: Paul presented a mini-workshop on evangelism at each of the small groups and then we hit the streets to give the small group members some open air evangelism experience. Paul painted Bible stories, riddles, and more while speaking to the people who stopped to watch. Dan and some of the other folks interpreted into Japanese, and everyone got a chance to speak with people one on one, and to pass out evangelistic tracts and tapes. It was not easy work - most Japanese kept walking, and those who did stop often walked away once they realized that it was a Christian presentation. But some stopped and listened and a few got in long conversations about the gospel and had a chance to hear the Good News of Jesus in some detail. Hearts were touched and some people expressed interest in learning more. But perhaps the biggest benefit was that many people in the church got a renewed vision for evangelism and a new sense of the urgent need to share the gospel with others. Paul left us a sketch board and some paints and brushes, and a few people in the church have expressed interest in taking to the streets more in the future.
Karen Visits Southern California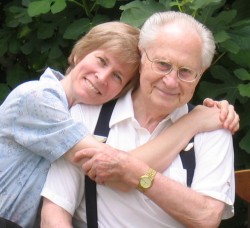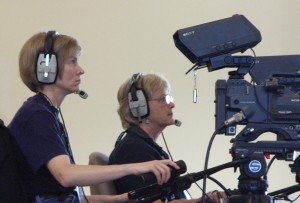 Karen and her dad on his 80th. Karen on a camera at Saddleback Church
While Paul and Dan were tromping the streets of Osaka, Karen was visiting family and friends in Southern California. The main reason for the trip was for Karen to be with her father for his 80th birthday party, but Karen also had time to visit friends and to give a short talk at Calvary Chapel of Oceanside. It was a blessing for Karen to renew contact with Pastor Ralph Wood (who baptized Dan, back in 1988), and many other friends there - "Hello and God bless you CC O'Side! Thank you always!" And a big thank you to all of our friends - your prayers are vital to this ministry. Before returning to Japan, Karen also attended the Celebrate Recovery conference at Rick Warren's church where, in addition to gathering some new ideas about how to help people overcome addictions and other life struggles, Karen was suddenly pressed into service to run a video camera for one session. It seems that they were short a cameraman and when they found out that Karen was qualified they asked for her help. I guess that once you are a video techy, you can never escape from work! (Comment from Karen: But it was an incredible learning experience to use a big camera and work with a live video team for the first time, and it was fun!)
OIC Small Groups and Alpha Continue to Grow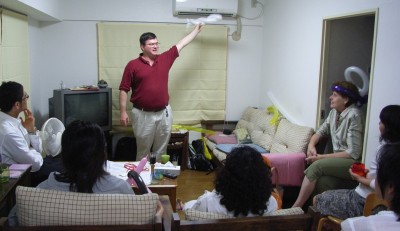 Dan does a "balloon art message" at a Care and Growth Group party
The OIC Care and Growth Group ministry continues to touch the hearts and lives of Japanese and foreigners alike. Many of the participants have never experienced small group worship and Bible study before, but they soon learn what a blessing it can be to belong to a group of caring Christian friends that share with one another and pray together. We are praying and waiting expectantly to see how the Lord will grow the small group ministry in the future.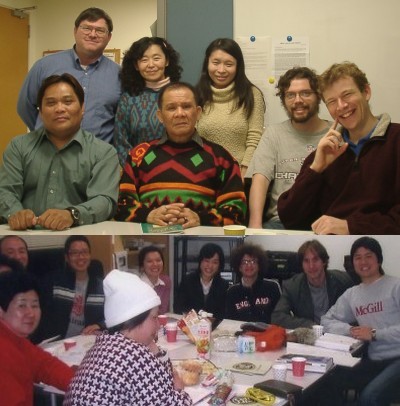 Tuesday (top photo) and Friday Alpha Course groups
The Alpha Course remains the most effective tool that we have found for leading seekers to make a decision for Jesus, for helping nominal Christians to come alive in their faith, and for developing new small group leaders. We currently have four Alpha Courses running, with Dan leading only one of them. The other three courses are being led by lay leaders who came through Alpha and through the Alpha small group leader training. We are praying that many more people would be led by the Lord and empowered by the Holy Spirit to lead their own Alpha groups in their homes in the future.
Korean Deaf Pastor Visits OIC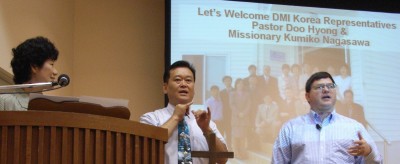 Pastor Doo Hyong, missionary Kumiko Nagasawa, and Dan
Our work with Deaf Ministries International (DMI) continues to grow, and Karen is now attending a Japanese sign language class on Saturday mornings. We also had a deaf pastor from Korea visit OIC and give a testimony of how he came to faith and was called into pastoral ministry through DMI. It was fun! He gave his talk in Korean sign language, which Kumiko then interpreted into spoken Japanese, and then Dan interpreted the Japanese into English. Despite the complexity of the communication, Pastor Doo's testimony was a blessing to all. We also had a special deaf outreach coffee time at the cell church recently and were pleased to have several Japanese deaf come and hear about the love of Jesus and about DMI's activities around the world.
One Happy Sunday at the Cell Church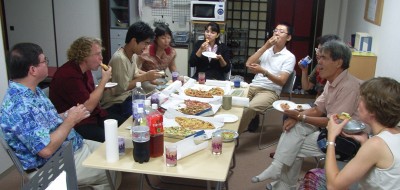 Talk over pizza, after music and a message, at the first One Happy Sunday in September
Progress at the cell church plant remains slow, although a new monthly outreach that we call "One Happy Sunday" in Japanese is showing some promise as a way of reaching new people - it's a fun special event on the first Sunday evening of each month. We had a record turnout (18, I think) at the most recent One Happy Sunday on December 3rd, when Covenant Players presented several short plays related to Christmas and we all enjoyed Christmas ham and rice with apricots and nuts.
---
Praise & Prayer Requests
(1) Praise the Lord for His work in our lives and in the lives of so many people around us! It is a blessing to see changed lives.
(2) Pray that the Lord would give us wisdom in balancing our schedule.
(3) Pray for the Lord to help us as we continue to try to resolve problems resulting from identity theft that has occurred while we have been in Japan.
(4) Pray for our regular weekly meetings - may the Lord be glorified in every way, every day!
(5) Pray that the people of Osaka might come to know Jesus! May this Christmas season be filled with opportunities to share the Good News of Jesus!
Thank you for taking the time to read our news and pray for us. God bless you always!
In Jesus' love,
Dan and Karen Ellrick