---
VVV OSAKA DIRECT VVV October 31st, 2005
---
Greetings in the Name of Jesus,
Here in Osaka the weather is starting to cool and the leaves are changing colors. Karen and I are doing fine, just busy as always. Today, when a search for an old airline ticket receipt caused me to go through several piles of papers, I got a reminder of how far behind on things we are. I think I need a month off just to catch up on correspondence (smile)! But if being behind on things is the worst problem we have, then it is okay. The Lord is good and He watches over us and guides in all things. Karen continues to minister in music, video, and computer work, as well as in helps and some counseling. Recently she has been building web sites for some other ministries also. I am also busy, mostly with teaching and preaching, but also with quite a bit of counseling and "other". I do pray that you are doing well and that the Lord would bless you in every way. Please enjoy Osaka Direct. God bless you!
---
News and Photos
Osaka International Church (OIC) has Called Dan as Regular Pastor

On Sunday, October 23rd, OIC held a special congregational meeting and over 80% of those present voted to call Dan (me?!) as the regular pastor of the church. When we came to OIC to help them through a crisis situation, we never imagined that we would be serving with the church long term. However, as I have served as interim pastor during the past three years, the Lord has revealed step by step that this also is part of His sovereign plan. The call from OIC confirms this and we have accepted their invitation to serve for an initial term of five years, renewable. We praise the Lord for the opportunity to serve in this way, and at the same time, we ask for your prayers that the Lord would equip us with all that we need for this challenging responsibility. We will also be continuing the work of planting the Grapevine Cell Church (Japanese web site), so we are doubly in need of your prayers - thank you!
OIC Fall Retreat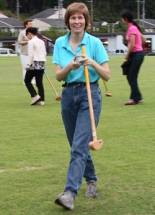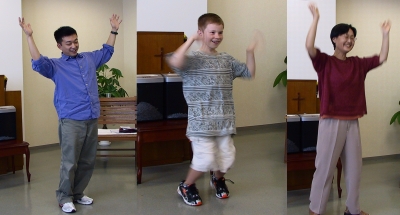 At the OIC Fall Retreat, we played Ground Golf and tried to "express" inexpressible joy (1 Peter 1:8)
We had a lot of fun at the OIC Fall Retreat as we drew near to the Lord and prayed and studied together. Of course, we also took time out for fun and games. Ground Golf, a trip to the Onsen (hot water springs) and an interactive session where we tried to express inexpressible joy were some highlights.
"Though you have not seen him, you love him; and even though you do not see him now, you believe in him and are filled with an inexpressible and glorious joy," 1 Peter 1:8 (NIV)
Takatsuki Bible Study Group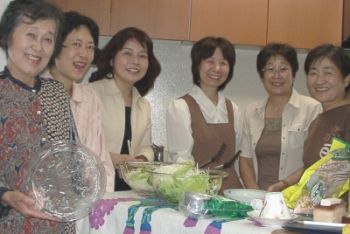 How many cooks are in the kitchen preparing lunch?
Twice a month on Friday morning, I ride the train to an Osaka suburb city called Takatsuki to lead a morning Bible study for about a dozen housewives. Currently we are studying the gospel of John, and this is proving to be an interesting and profitable study for both the Christians and the seekers in the group. It is not clear yet whether this Bible study will become part of the cell church or of OIC long-term, but the important thing is that the Gospel of Jesus Christ is being shared and bearing fruit. This particular outreach has the fringe benefit of an excellent lunch!
OIC Care and Growth Small Groups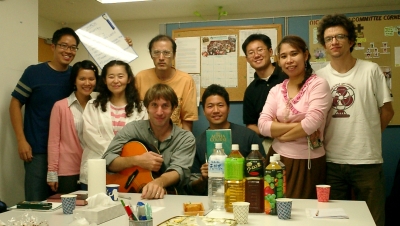 The Friday night Care and Growth Group
The Care and Growth Small Group ministry that we started at OIC this year is growing in exciting ways. Currently, there are groups meeting Tuesdays., Wednesdays, Thursdays, Fridays, and Saturdays. The Friday night group has just finished the Alpha Course and is beginning the Doing LifeTogether study course. Victor, who is holding the green Alpha book in the photo, will be baptized next Sunday, along with three other people.
Homeless Ministry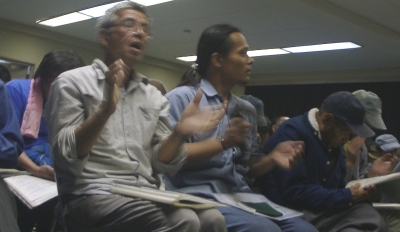 This man may not have a house, but he has a home in heaven
We are continuing to provide assistance to a homeless ministry led by a Korean missionary here in Osaka as we are able. In addition to providing financial support and used clothing donated from OIC members, I also serve as guest preacher occasionally to give the Korean pastor a break. This is some of the most challenging preaching that I do, but the Lord always seems to give an extra special filling of the Holy Spirit for the task.
Chinese Church Partnership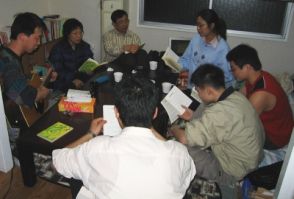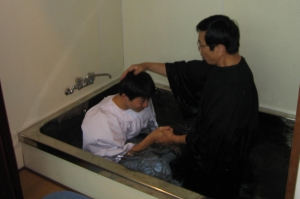 A Chinese church cell group meets for worship. Chinese baptism in a Japanese bathtub.
In a mega-city like Osaka there are many groups of people, and they each have different needs. Grapevine Cell Church is our effort to provide effective outreach to Japanese who do not speak English and who are not comfortable with western style churches. On the other hand, Osaka International Church (OIC) is effective at ministering to foreigners and Japanese who speak English and who are comfortable in a Sunday worship service. Still, there are many other groups that neither the cell church, nor OIC, are effective at reaching. For these groups, specialized ministries are necessary, and when we see that the Lord has raised up people with the gifts and calling for these ministries we take joy in partnering with them and helping and encouraging them. The homeless ministry is one example of this. Another, very different, example is a Chinese church that we partner with that focuses on outreach to Chinese students who have come to Japan to study. These students generally do not speak English or Japanese when they arrive in Osaka, and they are very open to hearing the gospel from Chinese speaking Christians who offer them help in getting settled into Japanese life. Since a typical student spends six or more years in Japan (two years of Japanese language study followed by four years ore more of college), there is enough time for the Chinese church to win them to Christ, disciple them, and send them back to China as evangelists and missionaries to their own nation. We praise the Lord for the privilege of partnering in this ministry in finances and in allowing them to use the cell church facilities for some of their meetings.
---
Praise & Prayer Requests
(1) Praise the Lord for clearly revealing His will in calling Dan to pastor OIC. Pray for wisdom and strength for this task.
(2) Praise the Lord for the privilege of serving Him in so many ways!
(3) Pray for the Lord to raise up regular financial supporters for the Chinese Church ministry. (Gifts for this ministry can be sent through our MUP account, just let us know that the gift is specifically for this.)
(4) Pray for our church-planting partners, Aukje and Will. Will is in full-time Japanese language school, and Aukje is teaching many English classes and leading some cell church meetings.
(5) Pray for our regular weekly meetings, may the Lord be glorified in every way, every day!
Weekly Meeting Schedule
Sunday, 10:00 am: OIC Worship service (English, Dan leads, Karen plays guitar)
Sunday, 6:00 pm: Prayer meeting at Grapevine Cell Church, Sekime Chapel (Aukje leads)
Monday: Day off!
Tuesday, 11:00: Grapevine Cell Church Bible study at Abeno Room (Japanese, Dan leads)
Tuesday, 6:30 pm: Senri OIC Care and Growth Group (English, Dan leads)
Wednesday, 10:00 am: OIC Doing Life Together Bible study (English, Dan leads)
Thursday, 10:00 am: Alpha Course at OIC (Japanese, Dan leads)
Thursday, 2:30 pm; Alpha Course at Sekime Chapel (Japanese, Aukje leads)
Thursday, 7:00 pm: Cell Church Worship at Sekime Chapel (Japanese, Dan leads)
Friday, 11:00: Takatsuki Bible Study (twice a month, Japanese, Dan leads)
Friday, 2:30 pm: Bible study at Sekime Chapel (Japanese, Aukje leads)
Friday, 6:30 pm: OIC Care and Growth Group (English, Sandy leads)
Saturday, 10:00 am: Cell Church Worship at Sekime Chapel (Japanese, Aukje leads)
Saturday, 4:00pm: OIC Care and Growth Group (Japanese, Danilo and Chiwa lead)
Saturday, 6:30 pm: OIC Saturday evening worship service (Bilingual, Dan leads, Karen leads worship)
Thank you for taking the time to read our news and pray for us, God bless you always!
In Jesus' love,
Dan and Karen Ellrick