---
VVV OSAKA DIRECT VVV August 31st, 2005
---
Dear friends,
Praise the Lord! Since we last wrote, we made a two week trip to Minnesota, Virginia, and Maryland, and had the great pleasure of seeing many of you in person. For those that we were not able to meet, we are looking forward to seeing you on our next trip, although we do not know when that will be. Back here in Osaka, the hot summer weather is finally starting to cool and we are looking forward to the more gentle weather of fall. The Lord continues to lead, guide, and bless us, and I am confident that He is doing the same in your life. God is good! On to the news updates; I do hope that you enjoy this issue of Osaka Direct. God bless you!
---
News and Photos
Dan's Ordination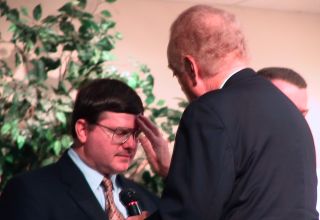 IMF President, Pastor Fred Kelly, anoints Dan with oil
On July 21st, I was formally ordained at a special service held during the biannual International Ministerial Fellowship (IMF) conference. This is an important milestone in the journey of faith that the Lord has been leading us on since we committed our lives to Him way back at Calvary Chapel of Oceanside. In many ways the meaning of the ordination is similar to the missionary commissioning that was previously received, but it will be more widely recognized since IMF is a fully-recognized organization for credentialing ministers and for providing ecclesiastical endorsement for chaplains (including US military chaplains). One difference from our missionary commissioning that did strike my heart was the emphasis in the ordination service on the permanent nature of ordination - being set aside forever as a servant to the Lord. Of course, this is true for all who call Jesus Lord. Thank you all for your prayers and encouragement!
The IMF Conference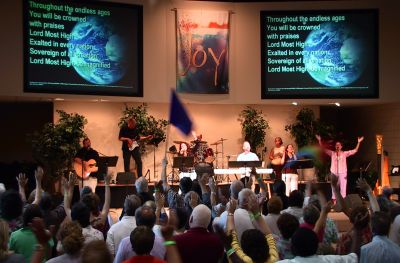 The IMF Conference worship was a blessed multicultural experience
The IMF Conference was a wonderful event with a widely varied program sharing many different worship styles and with a variety of conference and workshop speakers. The theme was "Growing Together" and we truly did feel that the conference allowed us to bond with other IMF members from across the USA and around the world. We were pleased to find that IMF has members from many different cultures and church backgrounds. It was a joy and a blessing to worship and learn together with these people from many parts of the Body of Christ. Just in case you are wondering, the IMF ordination will not change our relationship with Mission to Unreached Peoples (MUP). MUP will continue to be our mission sending agency, while IMF will provide additional spiritual covering and accountability as Dan's ordaining organization.
Grace Fellowship Chapel (GFC) Visit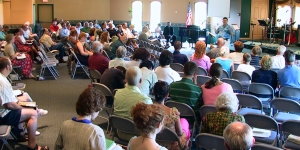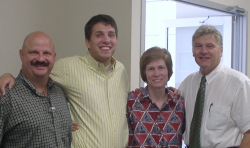 (left) Dan shares a message at GFC; (right) Karen with Pastor Ralf Nies (on right) and other friends
After the IMF Conference ended, we went to the east coast to visit friends and family (grandchildren!) in Fredericksburg, Virginia and then we continued on to visit our home church in Westminster, Maryland. It was wonderful to see the GFC family and we really enjoyed the fellowship and especially the barbecue party and the baptism service at the pool. Praise the Lord for so many friends and blessings! It seemed very appropriate and deeply meaningful that my first message as an ordained pastor was at GFC.
Back in Japan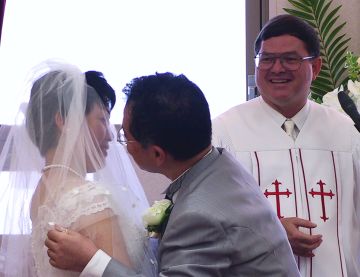 Dan officiates at an Osaka International Church (OIC) wedding
We arrived back in Osaka on the evening of August 3rd, just in time for me to make the final arrangements and hold the wedding service for Katsuhisa and Yukiko on the afternoon of August 7th. This wedding was one of the reasons that we could not stay in the States longer. Although it would have been nice to visit more, there was no way that I was going to miss doing the wedding for these two friends. Some of you may be surprised to see me in the robe, but for Christian weddings in Japan, a traditional minister's robe is almost always worn, and it does seem to help people to understand that marriage is holy.
News-Bits
Grandchildren Kollin and Leah are doing great
Visiting the grandkids was the real highlight of the trip, and I barely resisted sharing all of the cute photos. But in the end I decided to share more about the ministry and keep the photos in the family.
Son, Larry, should be back in the USA soon
Larry has finished his year in Iraq and was transfered back to Germany. He is due to be released from the army soon and should be back in the United States in the near future.
Rachel Starr back in Japan
Two years ago we hosted a short-term worker from Minnesota named Rachel, and we took great pleasure in welcoming her back to Japan last week. Rachel will be teaching English at a private high school in Shimonoseki and sharing the love of Jesus as she works. We also had the wonderful privilege of meeting Rachel's family while we were in Minnesota for the IMF conference.
Deaf Ministries International (DMI) Conference
Last month we reported that we had both joined the Japan Board of DMI, and although we did not attend, I wanted to let you know that DMI held their international conference in Uganda during the first week of August, and initial reports are that it was a wonderful success. Photos will probably be posted to the DMI website at deafmin.org soon.
---
Praise & Prayer Requests
(1) Praise the Lord for speedily providing the ordination for Dan that OIC required.
(2) Praise the Lord that our association with IMF promises to provide even more opportunities for future ministry. May the name of Jesus be glorified among the nations!
(3) Pray for the new OIC small groups that have started and for additional small groups that are planned to begin in October.
(4) Pray for the Budou no Ki Cell Church worship meetings and Bible studies. Last month we reported that the Thursday night meeting had several new members, but they have now been absent for a month. Pray for these new members to return and for wisdom in addressing struggles that they are having.
(5) Pray for wisdom concerning plans for hosting short-term workers next year. The planning process for recruiting 2006 short-term workers begins this month, and we have always been enthusiastic about hosting as many short-termers as possible. However, with our workload as high as it has been, something has to give, and for the first time we are considering putting our short-term worker program on break for a year or two. But is this really what the Lord wants? We need to pray through this carefully.
God bless you always!
In Jesus' love,
Dan and Karen Ellrick