---
VVV OSAKA DIRECT VVV July 2004
---
Dear friends,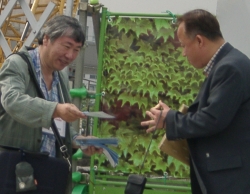 The Lord continues to provide us with many opportunities to share the love of Jesus with others and, we are seeing more and more fruit from the ministry. At the same time, it seems like there are more challenges and "potholes" in the road, and we need your prayers more than ever. One challenge is the fast pace of the work. These past three months we have had ten meetings a week going between the two churches, and a lot of special events as well. There are unscheduled things as well; for example, now as I am writing, Karen is on her way to Pennsylvania for her Aunt Jean's funeral, even though this week was when we had planned to finally get a few days of rest away as a couple. But we do have some help this month: a friend (Kurt Thompson) from the mission is here to help cover the meetings for two weeks, so I am catching up on mail and things and I will get even get a few days of rest this week, and this is a wonderful blessing. To the right, Eddy, who was just baptized in January, is helping to pass out tracts at the International Rotary Convention held here in Osaka last month. We also were blessed to have a short-term team from Hana Church working with us. You can read more about this and other news below. We hope that you enjoy reading about these things and more in this issue of Osaka Direct.
---
June and July News
International Rotary Convention Outreach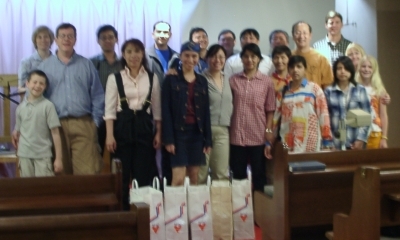 The volunteer tracting team is ready to go.
What do you call 40,000 Rotarians from all over the world gathering at Osaka Dome? An outreach opportunity! Stan Engle from Oklahoma brought trilingual tracts that were designed specifically for Rotarians, and together we led an energetic team from Osaka International Church (OIC) out to distribute them. In just a few hours we passed out an estimated 25,000 tracts of various types. It was a good experience for all, and for some of the team it was the first time they had ever had a chance to do any direct outreach. One of the side benefits was closer friendships between the members of the team - doing outreach together binds people into one.
Filipino Friends Fellowship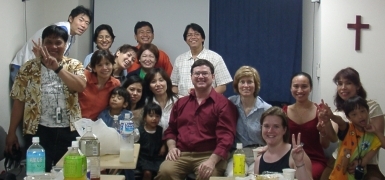 It's an OIC party at Sekime Chapel, Filipino style.
This October we are planning to launch a new small group at ministry at OIC, but our Filipino friends are way ahead of us. They have had their own small group meeting for some months and they are showing the way for getting this ministry rolling. They invited us to come along at one of their recent fellowship parties, and we had a great time praising the Lord, singing, eating, and playing games. This is one example of how the ministry is touching people from many countries now; this is wonderful and we praise the Lord for it, although the Japanese will definitely always have a very special place in our hearts and outreach.
Baptism Time!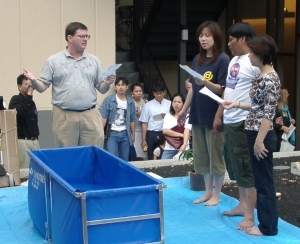 Three more baptisms gave us a special joy in July!
It was a great blessing to be able to baptize three more people this month - one Japanese and two Filipinos. The Japanese woman, Chiwa, has been a seeker for many years, but it was through the Alpha class that she finally opened her heart to Jesus. Now she is already helping with a Sunday School class and is eager to learn more about the Bible and to deepen her walk with Jesus. Our Filipino brother, Carlos, and sister, Cheng, declared that they were also ready to take the plunge. Carlos has been a believer for some time, but had not gotten around to getting baptized. Cheng is a new believer. Praise the Lord!
Thursday Night Alpha with Guests from Hana Church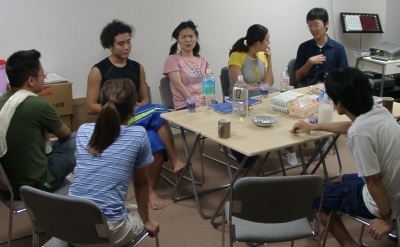 The Hana Church Short-term Team doubled the fun.
Saturday Afternoon Alpha at OIC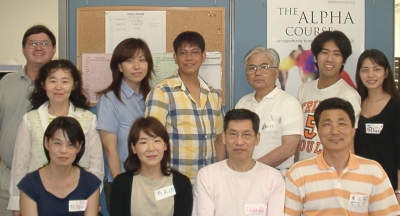 This Alpha group was as fun-loving as they get.
This past three months the Alpha Course has continued to prove itself as an effective outreach tool and fellowship builder at both OIC and at the Grapevine Cell Church (GCC). We had Alpha groups meeting on Tuesday morning, Thursday afternoon, Thursday evening, Friday evening, and Saturday afternoon - three Japanese language groups and two English groups. One of the most exciting developments is seeing how the Alpha Course allows people to move naturally into leadership roles. For example, Chie (second from the left, front row) was an assistant leader this time and volunteered to lead her own group in the fall without even being asked.
OIC has moved into the new building!


In the new building, we have lots of room and good equipment.
You may remember how we commented that we had a major problem with space in the old OIC building - we often had to put folding chairs in the aisles. Now we are in a brand new building with a hall three times the size of the old one, so we have lots of room to grow. Of course, it isn't our building - we are just tenants. Our landlord (Osaka Christian Center) decided to build new and we just moved along with them. But this has been a great deal for us since we now have the use of a new building that we could never have afforded on our own. Praise the Lord!
---
Praise & Prayer Requests
(1) Praise the Lord - OIC has voted to ask Dan to stay on as interim pastor with a view to becoming the permanent pastor after ordination. They want Dan to get ordained within two years, but we are not sure what the best route is for doing this. However, it does seem that it is the Lord's plan for us to stay at OIC long-term, so we know that He will open up a way.

(2) Please pray for the three people who were baptized recently and also for all of the students who have just completed Alpha. It seems that the enemy often tries to come in right after we have a victory and steal our joy. Let's not let him get away with it this time. Also, start praying for the next set of Alpha classes scheduled for October. We have a few students already signed up, but we need lots more to fill the classes.

(3) Please pray for Aaron DeLeon and the start of the new Calvary Chapel of Osaka church plant. You can also send him an email at aaronoflion@hotmail.com, I am sure that he would enjoy a friendly greeting and a word of encouragement.

(4) Please pray for Micah and Melanie Wilson, who are scheduled to join us in the ministry here starting in September. We need the government's favor to get their visas and we need a place for them to live. They are planning on being with us at least 9-10 months, and who knows...

God bless you always!

In Jesus' love,
Dan and Karen Ellrick