---
June News
Outreach to Osaka Christian College Students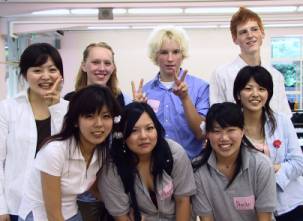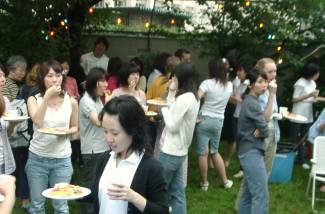 Left: Rachel, Aaron, and Andrew ham it up with new friends. Right: Food, Fun and Music brought out a crowd for the Garden Party
A full day of outreach events at Osaka Christian College was fun and exciting for everyone. Short-term workers visited classes and the band Antifany (part of the Father's House Church short-term team) played at a garden party at one of the teachers' homes in the evening. Even though the teaching at the school is Christian-based, less than 5% of the students are Christians, and it is rare for students to become Christians while at the school. Since school policy is that no invitations or calls for decisions to accept Christ are ever made at the school, developing Christian and church contacts outside the school is essential if these young people are going to be given an opportunity to truly know Jesus. The visit of the short-term team produced many new friendships and solid contacts for ongoing follow-up.
Take it to the Street

The band Antifany plays on the street at Tennoji while the rest of the team passes out tracts
In Japan it is always difficult to get people to come and listen to the Good News of Jesus, so if they won't come to us, then we have to go to them. This month, street music by Antifany warmed the hearts of many people to stop, listen, and make friends with the team. At events like these, and through distribution to mailboxes, over 30,000 tracts were passed out during the past month. These tracts included a short gospel message and invitations to additional special events and, of course, to the church. The band also brought 1,000 specially-produced CDs to give away and the CDs included four songs and a gospel witness with Japanese interpretation from Amy, the lead singer for Antifany. We have already had many people come to special events and a few to the cell church meetings as a result of this outreach, and we expect to continue to see many more people who were ministered to by the street evangelism in the future.
Singing in the Park, the Natural Place to Play
Left: Antifany plays at the Osaka Castle Park while other workers reach out to the crowd.
Right: The day we were there, a unicycle club was also putting on an impressive show
The Osaka Castle Park was one of the most fun street music events that we did, and it was particularly special in that many Japanese and foreigners from the Osaka International Church came out to join us since the event was right after the Sunday morning service. For most of these people it was their first experience in doing direct gospel outreach, but they soon got into the swing of it and did a great job of passing out literature and sharing about Jesus with people who wanted to know why we were having a free concert in the park.
Sharing the Gospel with the Homeless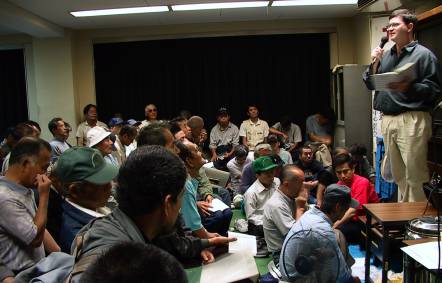 Dan shares a message from Acts 16 about the joy of knowing Jesus
Pastor So, a Korean missionary friend, has a tremendous outreach to the homeless of Osaka and we had the privilege of partnering with him to share through music and the Word at a recent meeting. About 200 homeless people came to see a movie, hear the music of Antifany, and listen to the gospel message. Each meeting ends with a free meal, which may be one of the reasons the meetings are so well-attended. Pastor So and his team provide over a 1,000 meals a week at four different meetings of this type. The homeless people seemed to be blessed by the music, the message and the chance to meet American friends. It was also a great learning experience for the team, since some of them had never had an opportunity to minister to homeless people prior to this.
Game time at the Cell Church's International Coffee House
Antifany plays music for fans as Karen and Rachel play the Ungame with game lovers at the Coffee House
This summer we have International Coffee Time every Wednesday night at the Grapevine Cell Church, and this is the most popular of the regularly scheduled cell church events. There is live music, free coffee, cold drinks, and snacks, lots of opportunities to meet new friends, and of course games to play. Quite a few Osaka Christian College students have been coming to the coffee house since they made friends with the short-term workers during their visit to the college (see above). The Ungame was very popular since it stimulated interesting conversation and allowed the Japanese students to practice their English with native speakers in a fun setting.
.
---
Prayer Calendar
Regular Weekly Meetings
Sunday:
10:15 am Osaka International Church (OIC) regular service (Dan teaching through Matthew).
6:00 pm Grapevine Cell Church prayer meeting (Dan leading, Karen and Rachel doing the music)
Monday:
Day off
Tuesday:
8:00 am Passing out flyers and tracts with OIC people. 10:00-5:00 Dan has counseling hours at OIC
Wednesday:
6:00 pm International Coffee Time at the Grapevine Cell Church (Rachel as hostess).
Thursday:
7:00 pm Grapevine Cell Church cell group meeting (Dan teaching, Karen doing music).
Friday:
Dan does message preparation. Karen makes DVDs.
Saturday:
10:00 am Grapevine Cell Church cell group meeting (Dan teaching).
6:30 pm OIC Saturday evening service (Dan does bilingual message, Karen does music)
Special Summer Outreach Meetings and Events in July and August
Ongoing: Friendship evangelism, literature distribution and street music.
July 17th, Tuesday: The Father's House team travels home.
July 19th, Saturday: A two member Overseas Summer Mission (OSM) team arrives to hold special evangelistic English classes at the cell church for three weeks.
July 21st, Monday: A team of 24 adults and high school students arrives from Castleview Baptist Church (Indianapolis) to do special outreach.
July 22nd, Tuesday: The OSM special English classes start at the cell church.
July 23rd, Wednesday: The Castleview Baptist Church team ministers to Homeless people with Pastor So and his church.
July 25th, Friday: The Castleview Baptist Church team holds a Family Fun outreach meeting at Tennoji People's Center at 2:00 pm, followed by a concert at the same location at 6:00 pm.
July 26th, Saturday, 6:30 pm: Castleview Baptist Church team holds a concert and testimony outreach at OIC.
July 30th, Wednesday: The Castleview Baptist Church team departs for the USA.
July 31st, Thursday: Rachel Starr flies home to Minnesota
August 10th, Sunday: Dewayne Dancer, A radio talk show personality from Texas arrives to share in the mission work for a week.
About August 20th, Amie, a short-term worker from Seattle, arrives for a ten day stay.
Special Prayer Requests
(1) Takako, a 43 year old Christian passed away this month from cancer leaving behind a one year old daughter and her husband. We will miss her and the her family needs your prayers. Takako was the only Christian in her family and it was a blessing to be able to share the confidence that we have as Christians that Takako is already at home with the Lord in heaven at the funeral. Please pray also that the Lord would give Dan wisdom concerning how to follow-up with her Buddhist family.
(2) We are happy to report that the Lord has brought a new missionary friend named Aaron to Osaka. It is Aaron's vision to see a Calvary Chapel started in Osaka and a forty-member Calvary Chapel short-term team from several stateside Calvary Chapels and the Tokyo area Calvary Chapels was here for a week holding special outreaches to help get things started. We have told Aaron that we want to help him in anyway that we can and we invite you to pray for him also.
May the Lord bless you! We hope that you have enjoyed this edition of
Osaka Direct
, and we invite you to share it with your friends. If anyone wants to be added to (or removed from) the
Osaka Direct
mailing list, just
let us know
. God bless you!
In Jesus' love,
Dan and Karen Ellrick