---
VVV OSAKA DIRECT VVV May 2003
---
Dear Friends,
Greetings in the Name of the Lord Jesus Christ! We are doing fine here in Osaka and keeping busy, as always. Summer season has arrived and we are already in full swing with summer outreach events, and we also already have one summer worker (Rachel Starr) staying with us. We hope that you enjoy reading this edition of Osaka Direct, and we also pray that the Lord is blessing you in your service to His kingdom as well. May the Lord bless you!
---
May News
Rachel Starr, Short-term Worker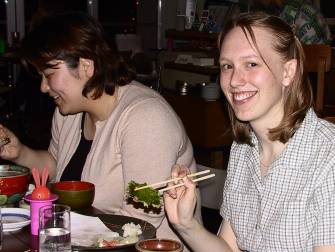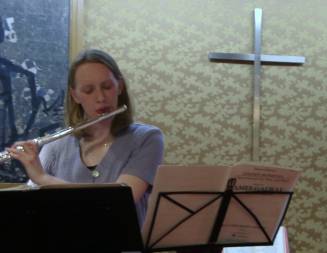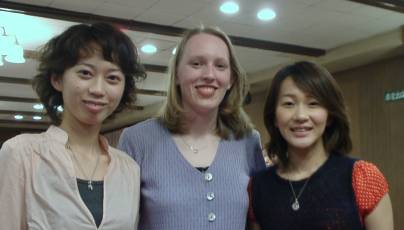 Top left: Rachel enjoys a fried leaf, Top right: Packing gift envelopes for people coming to the concert
Bottom left: Classical music on the flute, Bottom right: Making new friends after the concert.
Rachel Starr, a student from Northwestern College in Iowa, joined us as a MUP short-term missionary on May 23rd. She will be working with us until the end of July, and she has already been a big help and a pleasure to work with. In addition to learning about Japanese culture and language, she has helped out in many ways, cheerfully doing everything from passing out tracts on the street to stuffing gift envelopes for people coming to the concerts. The Lord has blessed her with musical gifts also, and she even gave a classical concert with flute and piano at one of the Saturday evening services at OIC, which was very well received and allowed us to make several new contacts for follow-up.
Grapevine Cell Church Update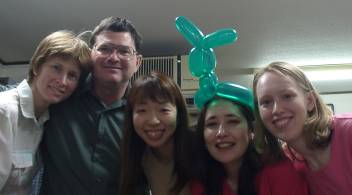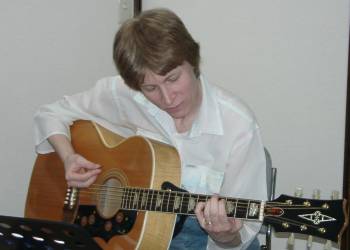 Left: Clowning around with friends after the Sunday evening prayer meeting at the cell church.
Right: Karen leads music on guitar for the small group meetings.
The cell church plant is in full swing, and we are now advertising four meetings per week: Wednesday night international coffee time, Sunday night prayer meeting, and Thursday evening and Saturday morning cell meetings. So far attendance has been limited to friends from other churches who have come to encourage us, but from the recent concerts we now have a number of new contacts to follow up with and we are praying that the Lord would lead some of these people to join the church meetings soon. We have also begun distribution of 45,000 concert announcements, tracts, and church flyers that we had specially printed for the cell church kickoff. Short-term teams coming in mid-June and mid-July will help with distributing the flyers, and we are also getting help from the international church. Partnership between the international church and the cell church ahs been strengthened and the flyers provide contact information for both churches.
Gospel Concert At Abeno People's Hall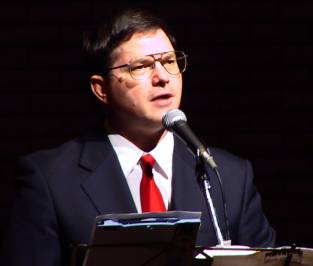 Left: The MTJ Gospel Choir performing at Abeno. Right: Dan gave a short evangelistic message in Japanese while the choir was on break.
On Friday, May 30th, we hosted the first of a series of summer concerts that are planned to provide lots of evangelistic contacts for the cell church and the international church to follow up. This performance was by an eighteen member gospel choir from Florida led by Warren Griffith of Homestay International (an organization that arranges homestays with Christian families for Japanese studying English in the USA). The choir will be holding a number of concerts over a two week period and we hosted one concert for them. Attendance was considerably short of what we had prayed for, but most of the people who came filled out questionnaires and gave their names and addresses for further follow-up. Our attention will especially be focused on the seventeen people who provided complete contact information and who indicated that they did not currently have any church connection. For some of them, this was the first gospel concert they had ever been to. As shown in the photos below, many new friends were made and we all had a great time not only during the concert, but also during the visiting time afterward.
Making Friends at the Gospel Concert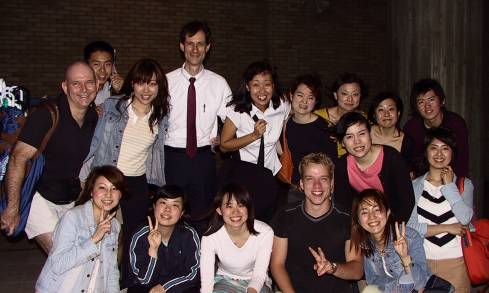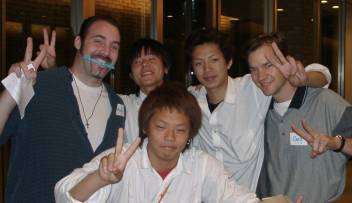 Left: Some members of the choir pose with new friends they met at the concert.
Right: Volunteer ushers from the international church ham it up with some high schools students who came to the concert.
In addition to the special events and the cell church meetings, Dan is still doing two services a week at the international church and keeping counseling hours there, and Karen continues to work hard both as a musician and producing bilingual DVDs of the Sunday morning messages. The summer workers (both Rachel and those who have not yet arrived) have given very positive reviews of the training DVDs that we produced and sent them, and we see almost unlimited opportunities to minister in many different ways through producing DVDs in the future. We continually give thanks to the Lord for the work He is doing here in Osaka.
---
Prayer Calendar
Regular Weekly Meetings
Sunday:
10:15 am Osaka International Church (OIC) regular service (Dan teaching through Matthew).
6:00 pm Grapevine Cell Church prayer meeting (Dan leading, Karen and Rachel doing the music)
Monday:
Day off
Tuesday:
8:00 am Passing out flyers and tracts with OIC people. 10:00-5:00 Dan has counseling hours at OIC
Wednesday:
6:00 pm International Coffee Time at the Grapevine Cell Church (Rachel as hostess).
Thursday:
7:00 pm Grapevine Cell Church cell group meeting (Dan teaching, Karen doing music).
Friday:
Dan does message preparation. Karen makes DVDs.
Saturday:
10:00 am Grapevine Cell Church cell group meeting (Dan teaching).
6:30 pm OIC Saturday evening service (Dan does bilingual message, Karen does music)
Special Meetings and Events in June and July
Ongoing: Friendship evangelism, literature distribution and street music.
June 15th, Sunday: Guest appearance by Rachel playing flute and piano at the Takamatsu and Ayauta churches for evangelistic outreach meetings.
June 17th, Tuesday: Eight member short-term missions teach from Father's House church(Tulsa) arrives for a one month stay.
June 18th, Wednesday: Father's House team doing joint outreach (tracting and music) with High-School Born-Againers (HI-BA) club.
June 19th, Thursday: Rachel and Father's House team working with the Light of Christ church for tracting and special testimony meeting
June 20th, Friday: Father's House team doing joint outreach with HI-BA club
June 22, Sunday: Rachel doing a classical concert and testimony at the Light of Christ church.
June 24th, Tuesday: Special outreach and barbecue at the Osaka Christian College
June 27th, Friday: Special evangelistic concert at Abeno by the band Antifany (part of the Father's House church team).
June 28th, Saturday: Special evangelistic concert at OIC by the band Antifany (part of the Father's House church team).
July 5th, Saturday: Special International Night outreach at the "House of Light" in Hirakata City.
July 7th, Monday: The Father's House team goes to Miyoshi for one week to do outreach with the church there.
July 12th, Thursday, 1:00 pm: Dan does the wedding service for an OIC member.
July 17th, Tuesday: The Father's House team travels home.
July 18th, Wednesday: A three member Overseas Summer Mission (OSM) team arrives to hold special evangelistic English classes at the cell church for three weeks.
July 21st, Monday: The OSM special English classes start at the cell church.
July 21st, Monday: A team of 24 adults and high school students arrives from Castleview Baptist Church (Indianapolis) to do special outreach together.
July 25th, Friday: The Castleview Baptist Church team holds a Family Fun outreach meeting at Tennoji People's Center at 2:00 pm, followed by a concert at the same location at 6:00 pm.
July 26th, Saturday, 6:30 pm: Castleview Baptist Church team holds a concert and testimony outreach at OIC.
July 30th, Wednesday: The Castleview Baptist Church team departs for the USA.
July 31st, Thursday: Rachel Starr flies home to Minnesota
May the Lord bless you! We hope that you have enjoyed this edition of
Osaka Direct
and we invite you to share it with your friends. If anyone wants to be added to (or removed from) the
Osaka Direct
mailing list, just
let us know
. God bless you!
In Jesus' love,
Dan and Karen Ellrick