We pray that the Lord is watching over all of you, and that you are enjoying the pleasant spring weather. Here in Osaka, spring has brought a beautiful display of cherry blossoms and an exciting time of new beginnings. There have also been a few minor "speed bumps" along the way, including some computer problems which have resulted in this edition of Osaka Direct being delayed by two weeks. Overall, we are doing fine here except that Dan's back went out and Karen continues to have headaches. Nothing too serious, just speed bumps on the road of life. We do pray that you also are in good health and that the Lord is blessing you in your walk with Him. The Lord continues to bless us daily as we work to share the love of Jesus here. We hope that you enjoy this edition of Osaka Direct. God bless you!
---
March News
Cherry Blossom Spring!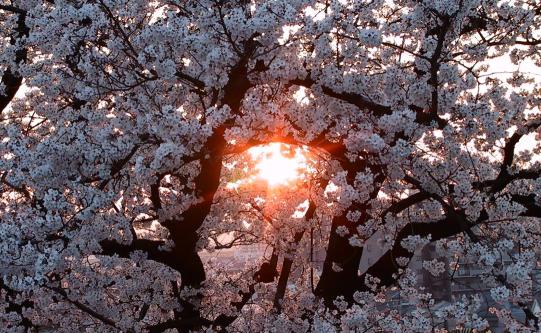 The sunset shines through the cherry trees in front of a friend's home.
Spring is here and millions of Japanese are taking time out to admire the cherry blossoms and enjoy the warmer weather. Since ancient times, cherry blossom viewing parties have been organized throughout Japan, and company employees, school groups, and families head for the parks to sit beneath the blossoms and share a meal, songs, and often more than a few drinks. Spring is a time of new beginnings in many ways. The Japanese school year starts April 1st, and this is also the change of fiscal year for Japanese companies. We are making new beginnings also as we make final preparations for the new cell church plant to begin meeting next month.
Fellowship and Brainstorming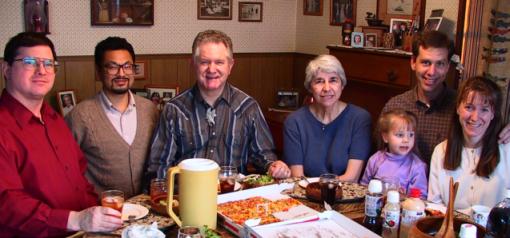 A pizza dinner and fellowship preceded heavy discussion about church planting and evangelism
We recently spent a delightful evening of fellowship and brain storming as we searched together with friends for ideas for more effective outreach and church planting here in Japan. In addition to two missiology PhDs, Dr. Paul Clark and Dr. Mitsuo Fukuda, the gathering also included less-experienced church planters like ourselves and Dr. Clark's son-in-law Chad and his family. It was wonderful to hear from some truly experienced people and get their thoughts on some of our plans for the new cell church and also concerning other church planting efforts that are underway throughout the region.
Osaka International Church Vision Meeting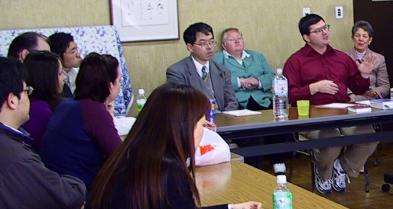 A few of the twenty-four members of the international church who
came to the first of a series of special vision-casting meetings.
We continue to work with the people of Osaka International Church as they plan for the future and begin the process of searching for a new full-time pastor. At the first of a series of vision meetings, nearly everyone felt that the church needed to move forward as quickly as possible in outreach and deepening fellowship and prayer; and no one wanted to "tread water" until a new permanent pastor might be found. This is wonderful progress from the mood of the congregation of a few months ago when deep wounds from the inappropriate actions of their former pastor had left many of them on the verge of quitting. As we continue to walk with them through the healing process, we have also begun to take steps toward making this church more effective in reaching out to Japanese people. One such step has been the addition of a Saturday evening service which Dan is doing in a fully bilingual format. We are also beginning planning for adding a home fellowship ministry this fall.
Visiting Friends from Hiroshima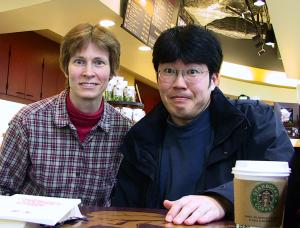 Karen and her friend Hara-san meet at Starbucks
We continue to have a steady stream of visitors stopping by to talk with us and these visits are great opportunities for sharing about our Lord Jesus. Hara-san and Karen worked together during the time that she had a part-time technology job in Hiroshima, and he called and asked to talk when he recently came to Osaka on business. Visits like these, as well as cards, letters, and email continue to give us many opportunities to reach out to our old Hiroshima friends even though it is difficult for us to find time to get back for a visit. Pastor Nagashima has even agreed to come up from Hiroshima next month and give the dedication message for our new cell church office and chapel location.
Shin-Osaka International Chapel Youth Meeting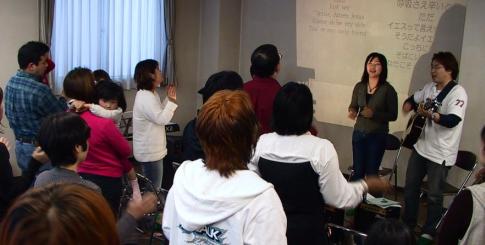 Young Japanese sang enthusiastically with the upbeat worship songs played by a visiting Korean missionary
As we get to know more Japanese pastors, we are sometimes invited to be guest speakers at various events. One such opportunity was when Pastor Suematsu invited Dan to give a short testimonial message at his church's youth meeting. It was an exciting meeting with a visiting Korean missionary providing upbeat guitar music and several speakers who brought out various evangelistic teachings. Dan was able to share about how he came to faith while serving with the U.S. Marines and about our call to the mission field and our work here in Japan.
---
Prayer Requests and Praise Reports
(1) Pray that the Lord would give us wisdom and discernment in considering new opportunities and accepting new responsibilities for partnership with Japanese churches and with other missionaries.
(2) Praise the Lord that Aukje vandenBerg, a fellow MUP missionary, has decided to move from the Tokyo area this summer to join our church planting team here.
(3) Pray that the Lord would give Dan great wisdom for pastoring Osaka International Church and for making decisions about the cell church plant. Pray also for wisdom and energy in dealing with what is becoming a busy schedule - preparing messages for Saturday evening and Sunday morning services at Osaka International Church, counseling at the church, meeting with other missionaries and pastors, planning for hosting short-term teams coming this summer, preparing for the first meetings of the new cell church, and many other things take time!
(4) Praise the Lord for the opportunity to meet with experienced experts and get their feedback regarding our church planting plans.
(5) Praise the Lord for providing an initial office and chapel location for the cell church and for helping us to get it set up and ready.
(6) Pray that the Lord would give us wisdom in adjusting our planned budget for the year to fit the realities of funds available. We are not discouraged by the shortfall in support funds, but instead are simply taking it as a signal from the Lord that we were trying to do too much too fast. (
how to contribute
)
(7) Praise the Lord that the heart surgery that Karen's father recently had was very successful and he is doing fine.
(8) Praise the Lord that Dan's back, which went out on him a few weeks ago, is showing a lot of improvement. Pray that he recovers fully in time for the summer outreach activities that are planned.
May the Lord bless you! We hope that you have enjoyed this edition of
Osaka Direct
and we invite you to share it with your friends. If anyone wants to be added to (or removed from) the
Osaka Direct
mailing list, just
let us know
. God bless you!
In Jesus' love,
Dan and Karen Ellrick