---
VVV OSAKA DIRECT VVV February 28th, 2003
---
Dear Friends,

The weather here in Osaka is still chilly, but as the days get longer we are happy to say that spring is in the air. We are doing fine here and we do pray that you also are in good health and that the Lord is blessing you in your walk with Him. The Lord continues to bless us as we work to share the love of Jesus here and I think you will find that we have some exciting news in this edition of Osaka Direct, so please enjoy it and praise the Lord! God bless you!
---
February News
DVD Production has Started!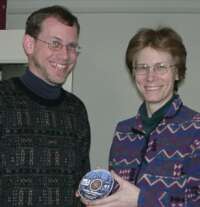 Karen shows John, a fellow missionary,
one of her first finished DVDs
We previously shared in an earlier edition of
Osaka Direct
about our purchase of a video camera and video editing software. Now, Karen has once again demonstrated both her artistic eye and her technical skills by getting our DVD Bible teaching video project off the ground. Every week Karen is filming Dan's message at the Osaka International Church and recording both the English message and the Japanese interpretation. Then, on Monday she edits the captured video on her computer and reformats it so that she can burn bilingual DVDs of the message for the church and for our just-started DVD teaching library, which will eventually (we pray) provide a wide selection of DVD Bible teaching materials for the cell church plant and other uses. This first series will be a verse-by-verse teaching series through the gospel of Matthew. You can read more about this project and even see the DVD video intro for Osaka International Church on the web at
http://proverbs2525.org/activities/dvd.php
. (Sorry, but the actual video messages are currently too large for our web site, so only the intro is shown.)
Japanese High Schoolers who Love the Lord!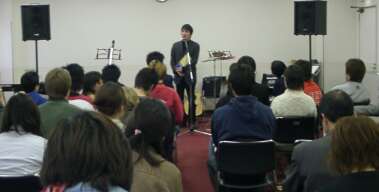 High-School Born Againers Meeting (HI-BA)
In the first picture above, you probably wondered who John was and why he was interested in our DVD project. John is a new friend and he is a missionary who works with Japanese High School students. We recently were blessed to attend the Osaka area spring meeting of HI-BA and really enjoyed seeing these young people testify to their love of Jesus and celebrate their faith. There were about thirty Christian High School students present, which made this the largest gathering of Christian teenagers that I have seen in Japan. Karen filmed this meeting also and will be making a DVD for HI-BA which they can use to share the gospel with their friends and invite them to meetings. John has also indicated interest in partnering with us to produce a DVD of testimonies by high school students for evangelistic purposes and also to encourage the believers.
Friends at Osaka International Church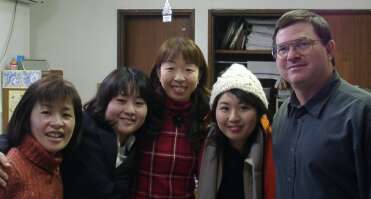 Tomoko, Yukako, Yumiko, Yumiko, and Dan at the OIC Office
Two weeks ago, as we were eating lunch at a nearby restaurant after church, a young Japanese college student (next to Dan in the photo) leaned over to Dan and announced that she wanted to be baptized. Although the baptism will not take place immediately due to her parents opposition, we rejoice that she has made her decision. In the coming months we will be praying that her parents' hearts would be softened so that they would give their consent to the baptism and that their hearts might also be opened to the Good News of Jesus. Praise His Holy Name!
Budounoki (Grapevine) Cell Church has a Home!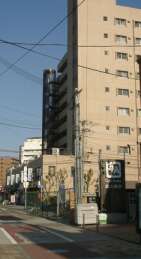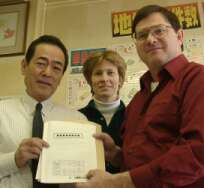 The lease has been signed, so the new Cell Church will have
office and meeting spaces on the first floor of this building.
After considerable praying, searching, and discussion, we have rented our first spaces for the new cell church plant - a four hundred square foot small business office on the first floor of the building pictured above. Our original desire to rent small apartments for the church cells to meet in turned out not to be feasible at this time since nearly all of the landlords were too concerned that the church music would disturb other residents. However, we did find that some office spaces are open to church use and these spaces seem like an equally good strategy for church cell locations, although more expensive than residential space The location is at Sekime Takadono which is directly next to a subway stop and only a five minute walk from a Keihan Line railway station also named Sekime. This is quite close to central Osaka and it should be a convenient location for a very large number of people. As you know, the idea of the cell church structure is that we will eventually have multiple meeting spaces at various locations throughout the city so we will continue to look for additional affordable spaces.
Sunrise over Osaka City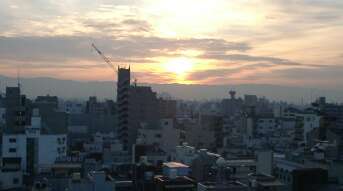 The view from our front door at 7:00 am.
In Japan it is still a common summer ritual to climb to the top of Mount Fuji and bow down to worship the sunrise. While we must agree that the morning sunrise is beautiful, it is not the sun in the sky, but the Son of God in heaven who is worthy of worship. As spring approaches and brings many new beginnings for our ministry, we do pray that these new opportunities will be used by the Lord to bring a day when the risen Son is acknowledged as Lord over Osaka and that the people of this city will come to worship Him and not the morning sunrise.
---
Prayer Requests and Praise Reports
(1) Pray that the Lord would raise up Japanese partners for the cell church ministry.
(2) Praise the Lord that He is raising up more and more short-term workers to help with us this summer.
(3) Pray that the Lord would send His Holy Spirit to soften the hearts of Japanese parents to not oppose the baptism of believing children and that these parents might also come to know Jesus as Lord and Savior.
(4) Pray that the Lord would give Dan great wisdom for pasturing Osaka International Church and for making decisions about the cell church plant.
(5) Praise the Lord for the opportunity to work with the High-School Born Againers and their leadership team.
(6) Praise the Lord for providing an initial office and small meeting location for the cell church.
(7) Pray that the Lord would provide the balance of our estimated budget for the cell church plant. We currently have about 65% of the budget target. (
how to contribute
)
(8) Pray for Karen's father, who will once again be having heart surgery during this coming week.
May the Lord bless you and keep you always. We hope that you have enjoyed this edition of
Osaka Direct
and we invite you to share it with your friends. If anyone wants to be added to (or removed from) the
Osaka Direct
mailing list, just
let us know
. God bless you!
In Jesus' love,
Dan and Karen Ellrick