---
VVV OSAKA DIRECT VVV December 30th, 2002
---
Dan, Karen and Toru, a new friend.
Dear Friends,
We hope that you have enjoyed a wonderful celebration of the birthday of our Lord Jesus during this Christmas season and we do pray that the Lord will bless you with a Happy New Year. We have had a blessed Christmas and things have generally been going well, although we had a small scare when Karen was involved in an accident on December 15th. We sent the news about the accident to everyone in a special prayer request email, so I won't repeat the details now, but I do want to assure you that Karen is fine. She was not hospitalized at all, but simply treated and released, with some follow-up appointments to make sure nothing was missed. Now, she is back almost completely to normal, with only a few minor aches and pains remaining.
We have had a busy month (as always?), so check out the December News below to see what we have been up to and what the Lord has been doing here. We do hope that you enjoy this month's Osaka Direct.
---
December News
Ayauta Visit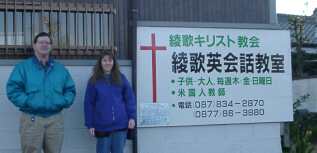 Karen took this picture of Dan and fellow MUP missionary Dawn Birkner during our visit to her new church plant, Ayauta Christ Church, on the island of Shikoku. Dawn joined our MUP Japan
team a little over a year ago and she has been quick to jump directly into church planting. She is working in partnership with some very experienced missionaries from The Evangelical Alliance Mission (TEAM) and is doing well. We visited Dawn to see the new church plant and to help with distributing tracts and invitations for special Christmas events. We were also able to help her in getting to know some of the town officials at the city office; in particular, we had a nice visit with the chairman of the Board of Education. He seemed very suspicious of us at first, since the town of Ayauta has never had a church before and he was worried that we might be some strange cult group. But after we had talked for a while he relaxed and seemed genuinely glad to meet us. We were even able to discuss the possibility of Dawn visiting some of the schools in town in the future for cultural exchange events.
Christmas Tract Distribution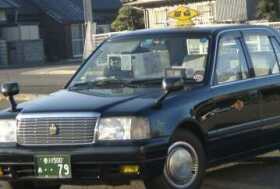 A Taxi Driver reads the Christmas Tract.
As mentioned above, while visiting with Dawn in Ayauta we passed out Christmas tracts. It was exciting to see how well-received the tracts were in this small town. Where we live in the city, only a small percentage of the people who receive tracts read them, but in the little country town of Ayauta, many people immediately began reading the tracts when they received them. While we were passing out tracts at the local train station, I knocked on the window of the taxi cab and gave a tract to the driver. As you can see in the picture, this large-format tract was read immediately. May the Lord touch the hearts of these people with the Christmas message in these tracts.
Rainbow Club

C

hristmas Party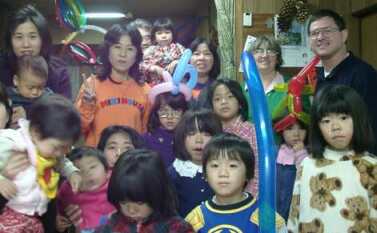 Rainbow Club Christmas Party at Fukushima Cho Church
Dan returned to Hiroshima to host a Saturday afternoon Christmas party for the Rainbow Club kids and their moms. Even though we have moved to Osaka for work here, we continue to stay connected with the church we worked with in Hiroshima over the last six years. It was great to see Pastor Nagashima and other friends and the party was a lot of fun too!
Christmas Decorations Everywhere!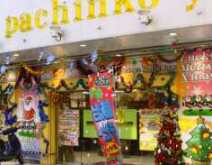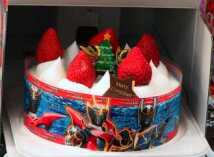 Christmas decorations at a Pachinko Parlor and a Christmas Cake
Few Japanese have ever heard the true story of our Lord Jesus' birth, but Japanese have whole-heartedly adopted Christmas trees and Santa Claus. Even pachinko parlors (pachinko is a sort of cross between slot machines and pinball machines) get into the act, and the one shown in the picture is covered with Christmas decorations. Colorfully decorated Christmas cakes are also must-have items for parents to take home and eat with the kids. (We are still wondering where the Christmas Cake tradition comes from?) Yet, all of this Christmas celebration has little or no connection to the reason for the season. Department stores stock all kinds of Christmas trees and ornaments, but nothing with Jesus' name on it or any indication that Christmas is a Christian holiday. The same is true for the decorations everywhere: plenty of Santa Clauses, but no nativity scenes. There is also a strong tendency to dress other people/things in Santa Claus suits. We have seen department store sales clerks, KFC's Colonel Sanders, animal statues, and even a Buddha statue dressed as Santa Claus this season. One bright spot of light in the midst of this is that Christmas music, including Silent Night and other carols, are played throughout the season in many department stores. Now, if people would just listen to the words and get the message!
Christmas at the Osaka International Church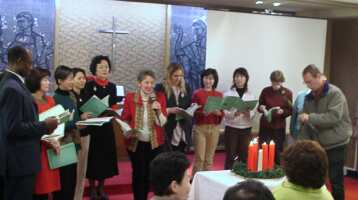 S
peaking of Christmas music, the Christmas choir at the Osaka International Church (OIC) put on a delightful presentation during the regular Sunday service and the special Christmas Eve service. During the Christmas potluck we even sang Silent Night in eight different languages! The church was packed to overflowing throughout the Christmas season and Dan is encouraging the church council to begin a second Sunday morning service soon. Dan is now officially the interim pastor at OIC and will probably serve for a year or more since the church will not be able to afford to pay a regular pastor for some time due to the financial decisions of the previous pastor who resigned in September. Below, a young Japanese boy lights the center candle (with a little help from Dad) in the Advent wreath on Christmas Eve. OIC has members from many countries, but over half of the congregation is Japanese, including some families.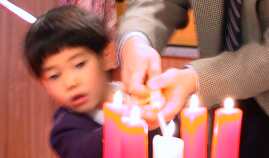 Budounoki (Grapevine) Cell Church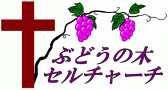 The New Grapevine Cell Church Logo
with the name in Japanese Writing
We have picked a name! Naming a new church plant is like naming a baby - a very difficult process, the results of which will be with you and others for a long time. But we have finally, prayerfully and carefully, taken the plunge. The new church will be the Budounoki Seru Chaachi, or in English, Grapevine Cell Church. This name is based on John 15:5, where Jesus proclaims, "I am the vine, and you are the branches. Those who remain in me, and I in them, will bear much fruit; for you can do nothing without me." (English Bibles simply say "vine", but Japanese Bibles say "grapevine".) Japanese friends helped with the naming and they say that this name has a very friendly sound in Japanese because of the reference to nature. We like the name because we think the Scripture reference will help people to remember that the cell church is about helping people to get connected to the Lord Jesus Christ.
---
Prayer Requests and Praise Reports
(1) Pray that the Lord would give us wisdom for selecting cell meeting locations.
(2) Praise the Lord that He is raising up a number of short-term workers to help with this ministry next summer.
(3) Pray that the Lord would send His Holy Spirit to soften the hearts of the people of Osaka so that they might respond when they hear about His Son, Jesus.
(4) Pray that the Lord would give Dan great wisdom for pasturing Osaka International Church.
(5) Praise the Lord for His unfailing mercies in protecting Karen during the accident.
(6) Continue to pray for Ida, a new MUP member who was scheduled to come work with us next summer, who is now undergoing chemotherapy for her lung cancer.
(7) Praise the Lord for Aukje vandenBerg, a MUP Japan missionary who is considering relocating to Osaka to join our church planting team.
We hope that you have enjoyed this edition of
Osaka Direct
and we invite you to share it with your friends. If anyone wants to be added to (or removed from) the
Osaka Direct
mailing list, just
let us know
. Your comments on how we can improve this, or any of our communications, are invited. God bless you!
In Jesus' love,
Dan and Karen Ellrick