VVV OSAKA DIRECT VVV Nov 28th, 2002, No. 3
---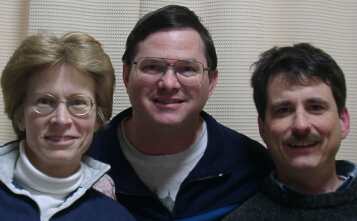 Dan, Karen, and Lonnie (MUP Japan Field Director)
Dear Friends,
It has been a good month here in Osaka, and we have made some solid progress on networking with other ministries and with Japanese pastors. We feel that sharing information, and possibly some resources, with these contacts will greatly increase our long-term effectiveness, and perhaps be a blessing to them as well. We do pray that you have had a blessed month and a Happy Thanksgiving, and that the Lord would continue to bless you as we enter the Christmas season; May the Lord be with you! And, we do hope that you enjoy this edition of Osaka Direct.
---
November News
MUP Japan Field Director Visit
Early this month, we enjoyed a visit from our mission agency's Japan Field Director, Lonnie Dufty. We had a good time fellowshiping together and also had the opportunity to talk through ministry and personal topics with Lonnie. Visits like these provide us with good advice and accountability and are one of the benefits of membership in an organization like Mission to Unreached Peoples (MUP:
www.mup.org
). The photo at the top of this page shows us and Lonnie.
Determined Greenthumbs Overcome Lack of Space
What do you do if you like to garden for personal pleasure, or even to supplement your income, but live in an apartment building with no front or back yard?
Some determined greenthumbs search for public property near home where they can put out boxed crops without interfering with traffic, etc. The photo shows boxes of flowers and vegetables being grown on the ledge behind the safety railing by a concrete-banked river. We spotted these crops during a prayer walk through one of the Buraku areas here in Osaka and couldn't resist taking a picture to share with you.
Networking with Japanese Pastors
We have long been aware that we need lots of help and advice about how to minister effectively here in Japan. While we were in Hiroshima, Pastor Izuo Nagashima was constantly helping and advising us, and now that we have moved to Osaka we have been working to network with people ministering here. The Lord has already blessed us with a number of contacts of people who are ministering in the Osaka area or who share our interest in cell church planting.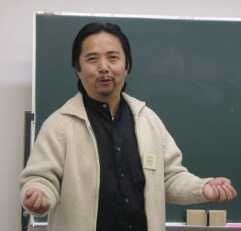 The photo shows Pastor Yoshito Ishihara explaining the advantages of a cell church structure for ministering in Japan. His presentation was given during a workshop at the recent Church Planting Institute (CPI) conference. CPI is the largest annual conference of missionaries and Japanese pastors in Japan and was attended this year by over 400 people. Pastor Ishihara is the director of the Japan Cell Church Mission Network (JCMN:
www.jcmn.net
(Japanese language only), so he is an excellent source of wisdom on the subject. At the CPI conference, Dan had the opportunity to speak with a number of Japanese pastors who share our conviction that the gospel can be more effectively communicated in Japan through cell churches or house churches rather than through traditionally-structured churches. The importance of finding new ways to share the gospel more effectively was underscored by information shared at CPI which showed that for the last two years the church in Japan has been in decline, with the number of churches closing exceeding the number of new church starts by a significant margin.
First Steps toward Creating Video Teaching Resources
One significant obstacle to the growth of cell churches in Japan has been the reluctance of Japanese lay believers to take on a teaching role, even in small group ministry. In Japan, there is a strong belief that professional credentials and training are required for almost everything. This type of thinking extends into the church also and makes it difficult for lay believers to take on any significant ministry roles, since they often feel that they don't have the necessary "credentials" to teach or lead. At the same time, there is a tremendous need for lay leaders to do the work due to a severe shortage of seminary-trained ministers. To try to address these issues, one idea that we have been working on is the development of video (actually DVD) based teaching materials that would allow lay leaders to take on leadership of small groups even if they are not confident enough to do the Bible teaching themselves.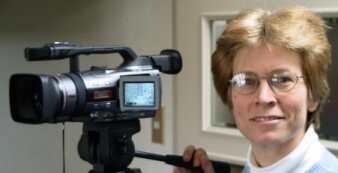 A first step in developing such resources is to get the equipment and learn how to use it. In the photo Karen is posing with her brand new video camera. Right now she is just learning how to use it, but as her skills grow we are hoping to begin turning out high-quality Bible teaching DVD resources on a regular basis. Dan will be teaching the first video series, but as our production skills grow we want to recruit some Japanese pastors to present teaching series on camera as well.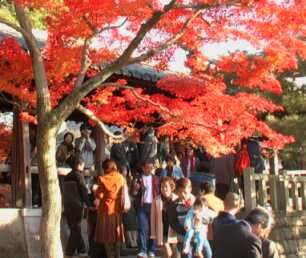 Karen took the video camera out last Saturday to practice filming by shooting Japanese people admiring the colorful fall leaves. We can't show you the beautiful video footage that she got, but here is a still photo of some of the brilliant leaves on the grounds of a temple in Kyoto. Japanese people love to go out and see the leaves changing color in the fall almost as much as they like to see the cherry blossoms in the spring, and any place with pretty leaves is sure to be crowded.
Networking with Other Ministries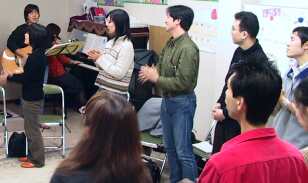 The Japan Christian Fellowship Network (JCFN:
www.jcfn.org
) is a ministry focused on helping young Japanese who become believers while studying outside Japan. This "returnees" ministry fills a valuable role since many Japanese who accept Jesus in the USA, Australia, Canada, or Europe have trouble fitting in with Japanese churches when they return home. The photo shows Setsu Kuroda, a JCFN staff member, leading small group worship at a meeting here in Osaka. we already have a number of returnees at the Osaka International Church and contacts among other returnees who may want to be involved in the cell church when it starts next spring.
Another ministry that we have been networking with is the international VIP club. This ministry, which is based on Isaiah 43:4, "Since you are precious and honored in my sight, and because I love you...," (That does make you a Very Important Person in God's eyes, doesn't it!) began as an outreach to businessmen, but now reaches many other Japanese as well. A number of Japanese have come to faith through the low key, no pressure, VIP ministry meetings but, like returnees, they often have trouble fitting in at regular Japanese churches because they came to faith "outside the system" and are not used to the church way of doing things. We believe that the cell church may be an effective way to meet the needs of these people as well.
Osaka International Church (OIC)
Dan continues to preach at OIC, the church whose pastor resigned in September, and the church council and Dan are discussing his coming on staff part-time as interim pastor. This is both an opportunity and a major challenge since the church has many needs, but also a lot of potential for ministry. OIC is attended by over a hundred people from thirteen different countries, with Japanese believers accounting for over half of the membership. The primary language is English, but simultaneous translation into Japanese is provided and music specials, etc are sometimes done in a variety of other languages as well.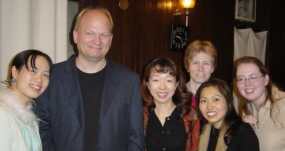 OIC recently celebrated their 28th anniversary as a church with a concert by Jeff Nelson who was touring Japan at the time and stopped by for an evening.
---
Prayer Requests and Praise Reports
(1) Praise the Lord for good progress on meeting Japanese pastors and networking with other ministries.
(2) Praise the Lord for the opportunity to minister to the Osaka International Church in their time of need.
(3) Pray that the Lord would soften the hearts of Japanese during the Christmas season so that they might recognize the true meaning of the holiday and come to know Jesus.
(4) Pray for Ida Anderson. Ida is facing a major challenge to her plans to come to Japan next year since she was diagnosed with lung cancer last week. She is in good spirits despite this challenge and is praying for healing, yet trusting in the Lord regardless of what happens.
(5) Pray for the Lord to provide every needful thing for the Father's House church short-term team that is coming next summer and for others who are considering coming for short-term ministry next summer and fall.
We hope that you have enjoyed this edition of
Osaka Direct
and we invite you to share it with your friends. If anyone wants to be added to (or removed from) the
Osaka Direct
mailing list, just
let us know
. Your comments on how we can improve this, or any of our communications, are invited. God bless you!
In Jesus' love,
Dan and Karen Ellrick