VVV OSAKA DIRECT VVV Oct 30th, 2002, No. 2
---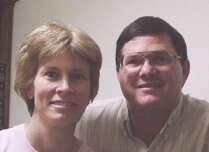 Dear Friends,
Welcome to the second edition of
Osaka Direct
! If this is the first
Osaka Direct
that you have received, then we want to welcome you to this mailing list. You can see last month's
Osaka Direct
on our web site at
www.proverbs2525.org
. If for any reason you do not want to receive future editions of
Osaka Direct
, we will be happy to remove you from the list. This month we have made some changes to the underlying photo formats that we hope will solve display problems experienced by some of you last month. However, please drop us a note if the photos do not display correctly, or if there are other problems. If you remember to tell us what software you are using, that will help us in troubleshooting.
October has been a busy month for us and we need your prayers as we face a variety of new challenges. Please continue to lift us and the ministry here up in prayer. And, we do hope that you enjoy this edition of Osaka Direct. God bless you!
---
October News
Osaka International Church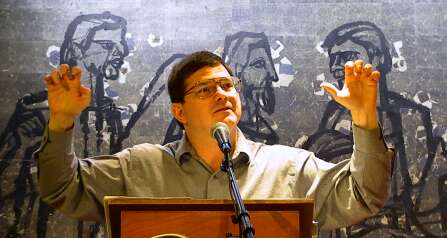 This is the biggest new challenge that the Lord has brought us this month. We live very close to Osaka International Church (OIC), a congregation of about 100 members from many different countries, and had visited there several times since coming to Osaka. Dan had even spoken there as a guest speaker once. Well, three weeks ago the pastor of this church resigned and the congregation was suddenly left without a minister. The church council decided to call us and ask for help in this time of crisis; and we felt like the Lord would have so do what we could to help. So, Dan now has the pulpit every Sunday and is in discussions with the church council about helping in other ways. The picture above shows Dan explaining how when the storms of life threaten to overwhelm us and we feel like we are just barely hanging on; then we need to make sure that our feet are firmly planted on the Solid Rock of the Lord Jesus Christ.
Agape International Christian Fellowship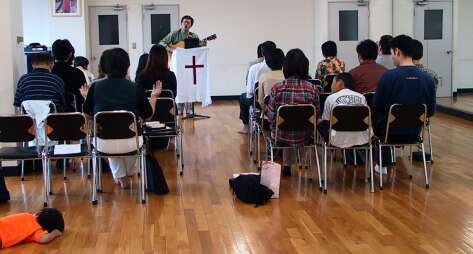 At the beginning of this month, we had the joyous opportunity to visit PastorTakeshi's church which meets in the dance room at a community center (photo above). PastorTakeshi is a wonderful new friend who shares a vision for planting churches. We have been getting to know each other and exploring the possibility of working together on some things. We enjoyed our visit with this growing congregation greatly and Dan also had the opportunity to visit one of the church's home groups as well (photo below).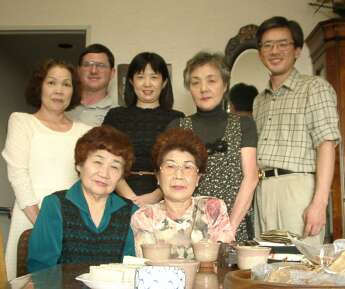 Many Japanese feel the need for Something Spiritual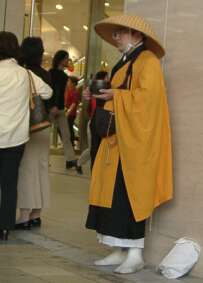 As we get to know the city, we cannot help but notice again and again how many Japanese people seek for something beyond materialism in various ways. The picture above shows a Buddhist monk with a begging bowl. You can't see it in the picture, but the Starbuck's Coffee shop on the second floor of the shopping center behind him gave the overall scene a surreal contrast. As they worry about what the future may hold, many Japanese turn to all kinds of fortune telling, trying to get some kind of feeling of security regardless of the source. The picture below shows booths with young couples getting their fortunes told to see if their relationship will be successful.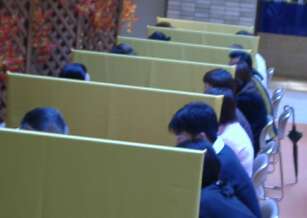 The City never sleeps and sometimes we don't either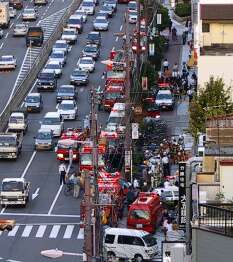 The volume of traffic on the street in front of our apartment building drops off after midnight, but that doesn't mean that it stays quite and peaceful all night. Several times a night ambulance or fire truck sirens scream for attention and once there was a fight outside at 4:40 in the morning and Dan had to call the police. The picture above (taken from our balcony) shows fire trucks gathered at a nearby building early one morning. We are continually reminded that this is a BIG city with tremendous needs of every kind. Still, there are some peaceful moments in the day; the picture below shows the pleasant view out the window where we ate lunch one day.
Friendly Faces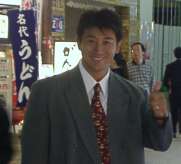 Even in the middle of crowded city, there are a lot of friendly people. We met the man pictured above one evening when we were visiting the Dotonbori district with a missionary friend. We had fun talking with him and were able to give him a New Testament before saying goodbye.
The picture below shows some young girls visiting with the rescue dogs at a fund raising event. And the one below that shows children listening to a Bible story at Pastor Takeshi's church. Only a tiny percentage of the children have any chance at all to hear about Jesus; we pray that the Lord might show us effective ways to reach out to them and their families.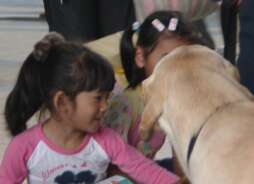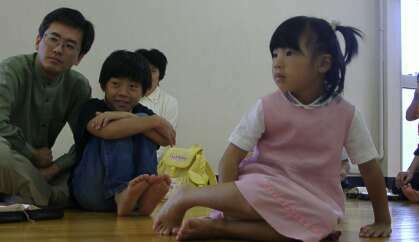 Osaka Cell Church Plant: Project and Budget Milestone
On October 20th the Osaka Cell Church Plant marked a paperwork milestone when our mission agency, Mission to Unreached Peoples (MUP), completed the review of our project proposal and gave formal approval to the Osaka Cell Church as a MUP project. The project code OCCJ1 was assigned and then we transferred $25,000 from our missionary support account and started an additional automatic monthly transfer of $1,000 a month to the new OCCJ1 account. What does all of this mean?
(1) It means that the Osaka Cell Church has an initial financial base in place and that the project will have good visibility, detailed accountability, and solid support within MUP.
(2) It means that, thanks to your generous support, the Osaka Cell Church plant already has about half of the funds needed for budget year 2003. Thank you and praise the Lord!
(3) It means that you may designate future financial gifts as specifically for the Osaka Cell Church Plant (Project OCCJ1) if you desire to do so. Unlike funds given in general support of the ministry here, funds designated for the project cannot be used for other purposes (e.g. conferences, language study, etc).
Thinkword.com is a pre-evangelistic web site for making contacts with Japanese people seeking spiritual answers, or just looking for a friend. The site content is fairly limited at this time, but it is growing. Right now, thinkword mostly features pictures of us and information about us, plus a verse of the day and Dan's daily Japanese-language diary entry. Links to more developed Japanese language evangelistic sites and to online Japanese Bibles are also included. Other content will be added gradually in order to make the site more attractive and informative. If you have Japanese fonts on your computer, then you should definitely check it out.
---
Prayer Requests and Praise Reports
(1) Praise the Lord for good progress on preparations and funding for the cell church plant.
(2) Praise the Lord for the opportunity to minister to the Osaka International Church in their time of need.
(3) Pray that the Lord would send His Holy Spirit to open the eyes of Japanese people involved in fortune telling and false belief systems and that He would soften their hearts to accept His Son, Jesus.
(4) Pray that the Lord would give the Osaka International Church leadership wisdom for dealing with the difficult situation they are now in.
(5) Pray for Ida as she continues her preparations for coming to Osaka next year to join the minister here.
(7) Pray for the Lord to provide every needful thing for the Father's House church short-term team that is coming next summer.
(8) Pray that the Lord would use thinkword.com for His glory. Pray that Dan would have the energy and diligence to update the site daily with a new verse of the day and diary entry.
We hope that you have enjoyed this edition of
Osaka Direct
and we invite you to share it with your friends. If anyone wants to be added to (or removed from) the
Osaka Direct
mailing list, just
let us know
. Your comments on how we can improve this, or any of our communications, are invited. God bless you!
In Jesus' love,
Dan and Karen Ellrick