VVV OSAKA DIRECT VVV September 25th, 2002
---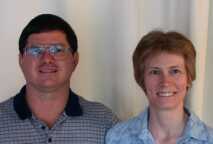 Dear Friends,
Welcome to Osaka Direct - a new tool for keeping our friends in touch with how things are going with the ministry here. While we were in the States a number of people told us that Moshi Moshi, our paper-based prayer letter, does not come often enough to provide them with current prayer requests and news about the ministry here. We were delighted that there were so many people who wanted more frequent updates, but due to the cost involved in mailing paper prayer letters, we didn't think that it would be good stewardship to send Moshi Moshi more than about four times per year. After thinking and praying about it, creating a monthly e-mail prayer letter seemed like the best answer for staying in touch more frequently with those most interested in the ministry.
How will Osaka Direct be different than Moshi Moshi?
* We plan to send it monthly, not quarterly.
* Osaka Direct will be less formal. It will have more "raw thoughts" and probably more typos too.
* Osaka Direct will have more pictures and they will be in color.
How will Osaka Direct be different than the email Ellrick updates that we have done in the past?
* We will strive to be consistent in sending Osaka Direct at the end of each month. Osaka Direct is an HTML email - the good part about this is we can add lots of color, photos, etc. The bad part is it will take longer for you to download because it will be a bigger email.
---
September News
MUP Japan Conference
The growing family of MUP missionaries in Japan met for the annual retreat/conference and had a great time. The only down note was that several of our members could not make it due to teaching schedule conflicts.
Workshops on Worship Leading and Gospel Music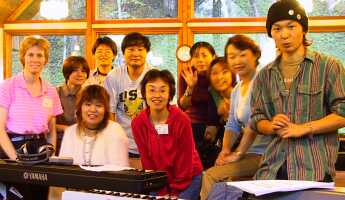 Karen participated in two workshops to continue building on her music skills. The picture shows her with an enthusiastic group of gospel keyboardists in training. Gospel music is still a boom in Japan, and this workshop is a step toward better understanding how to use the popularity of the music as a witnessing opportunity.
Getting to Know Osaka Better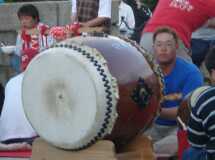 As we get to know Osaka City better we are finding lots of interesting places and people. The picture shows a traditional Japanese drummer who has set up in the castle park and is drawing a crowd of admirers. There is a lot more street music here in Osaka than there was in Hiroshima, and we are looking forward to ministering on the street with short-term teams next summer.
Prayer Walking in Osaka Buraku Areas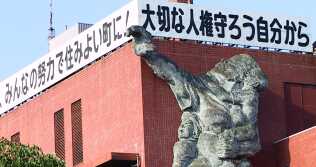 We have been attending services at the Osaka International Church while we are getting settled in and then going for prayer walks on Sunday afternoons in some of the Osaka area neighborhoods where we want to minister in the future. The picture shows a sculpture of a woman and her child that decorates the front of one the Buraku area community centers.
Escape from the city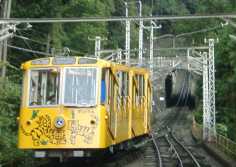 Sometimes you just have to get away from the noise and rush of the big city. Here Dan is exploring some mountain hiking trails that are about 45 minutes out of the city by train. The cable car provides access to the trails and also to a Buddhist temple at the top of the mountain.
Making New Friends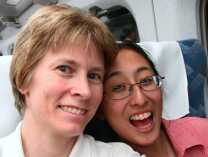 Karen seems to be having fun getting to know new friends. Making friends and building relationships is a crucial step toward preparing for the new church plant. You have to know some people to invite to church!
---
Prayer Requests and Praise Reports
(1) Pray that the Lord would give us wisdom in planning for the new church and in all preparations.
(2) Pray that the Lord would send more workers, short and long term, to help with the ministry.
(3) Pray that the Lord would send His Holy Spirit to soften the hearts of the people of Osaka so that they might respond when they hear about His Son, Jesus.
(4) Pray that the Lord would bless the ministry of Osaka International Church and the Japanese churches here in the city so that their ministries might be pleasing in His sight and fruitful.
(5) Praise the Lord for His unfailing mercies and for His provision of a good place to live and new friends.
(6) Praise the Lord for Ida, a new worker who is scheduled to come work with us starting next summer.
(7) Praise the Lord for Father's House church and their plans to send a team of short-term workers next May and June.
(8) Praise the Lord that He is building our finances through some recent larger-than-usual donations that will help us in meeting the initial expenses of obtaining places for the cell church to meet.
We hope that you have enjoyed this first edition of
Osaka Direct
and we invite you to share it with your friends. If anyone wants to be added to (or removed from) the
Osaka Direct
mailing list, just
let us know
. Your comments on how we can improve this, or any of our communications, are invited. God bless you!
In Jesus' love,
Dan and Karen Ellrick